When it comes to "eating out without" gluten and dairy, I've sampled restaurants that run the gamut from 100% gluten-free to gluten-filled establishments that serve gluten-free fare on the side. Given the choice, I'd choose a dedicated gluten-free establishment any day!


With only 48 hours left in my winter break, I wanted to make the most of my time left, and decided to venture beyond my Central Florida comfort zone to Melbourne to check out The Bald Strawberry, a dedicated gluten-free cafe recommended highly by several members of the private Gluten Free in Orlando Facebook group where I have picked up some valuable tips on where to grab gluten-free fare around the city. Lured by the promise of gluten-free waffles and pizza, two of my favorite foods, my mom and I decided to make that our last "girl's lunch out" before officially leaving town.


Arriving during the lunch hour, it was hard to decided what I was going to order after taking in their expansive menu featuring pizzas, sandwiches, salads, appetizers (empanadas and chips 'n' salsa) and "delights" (desserts). Since no gluten is present in the premises, all I had to worry about was the presence of dairy- which was basically the pesto and various cheeses used on some of the dishes. Though I was tempted by a waffle sandwich, I decided ultimately to to go with the organic herb pizza which features marinara, fresh basil, tomato, spinach, and red onion.


For vegans, dairy-restricted, or others who just don't care for cheese, there is an option to replace the mozzarella with a dairy and soy free cheese for an additional $2.00.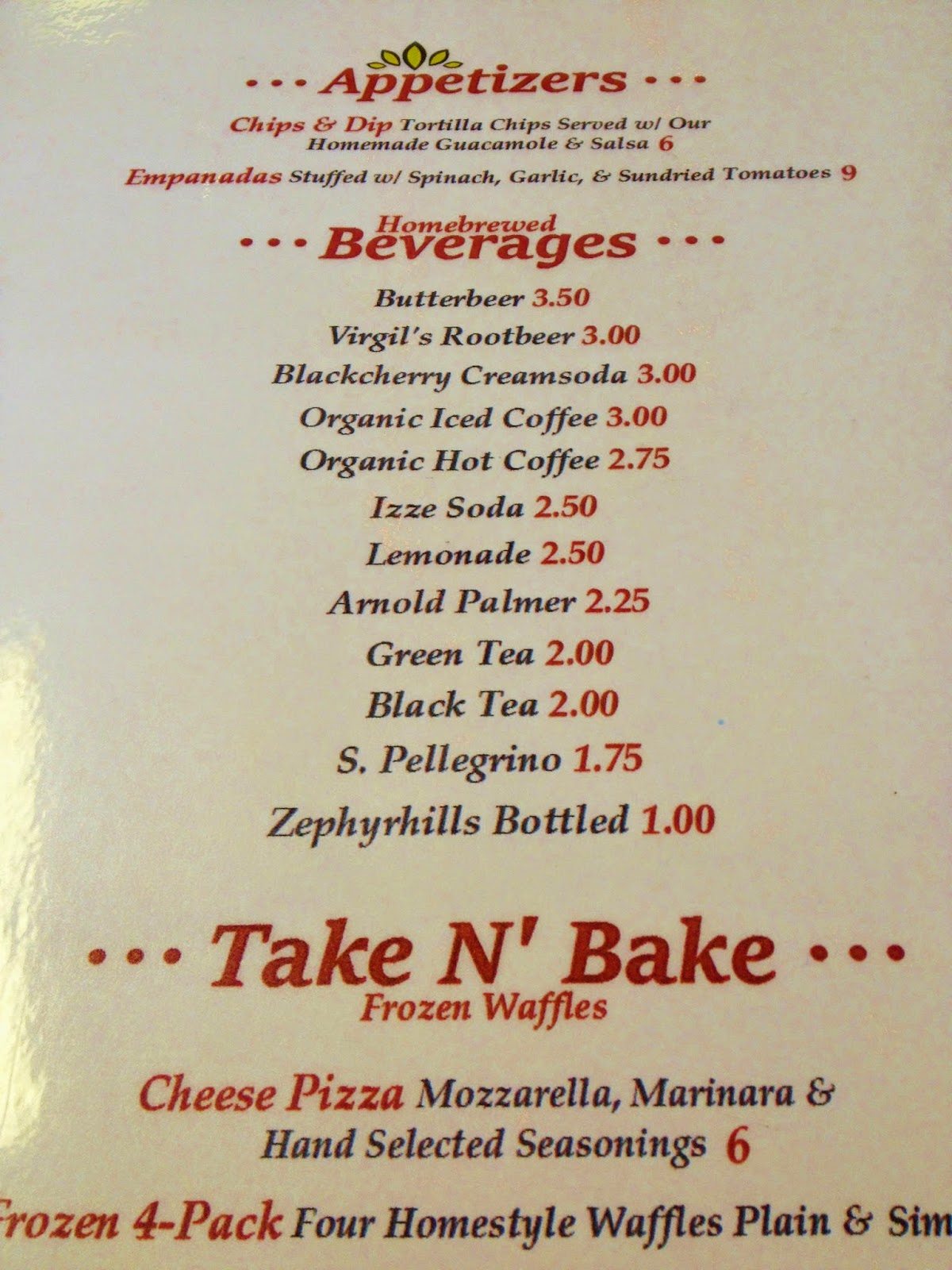 See butterbeer on the menu? You "butter" believe it!

































The restaurant wasn't crowded, but had a steady stream of customers coming in both for take-out and sit-down lunch. Though the restaurant did not seem to be short-staffed, service was a tad slow and we had to wait several minutes to place our orders. However, the entrees arrived speedily and immediately made me forget the minor complaint with their vibrantly-hued toppings and delicious aroma.


The waffle proved to be a perfect base for the pizza because it was sturdy enough to support the weight of the toppings without bending and had a satisfying crispy crunch, that rendered it one of the best waffles AND pizza crusts I've ever had. The marinara sauce was thick and slightly chunky, which I really liked. The seasonings married perfectly with the truly garden fresh herbs and vegetables. Absolutely nothing is better than fresh-from-the-garden produce, and the Bald Strawberry smartly lets the simplicity of their creations do all the talking.





My mom ordered the Joe Cool sandwich, featuring turkey, red onion, banana peppers, melted provolone, and zesty mayo. The waffle sandwich earned a two thumbs up from her as well!


Update 12/23/2015: On a repeat visit, I decided to try the Joe Cool minus the cheese. It was simply amazing. I loved the zesty merging of flavors, especially the banana peppers and mayo- and I'm not even a mayo person. The waffles as a sandwich bread were amazing and seriously made me question why we don't use waffles as sandwich bread more often.




I sincerely loved the Bald Strawberry and before heading for home, was already scheming up a future diversion to Melbourne to once again enjoy this fabulous cafe. Places like this are true gems and should be cherished and celebrated by locals and out-of-towners alike. The drive may be dreary, but the destination is an oasis of sorts for a state that does not have too many 100% dedicated gluten-free establishments.


Plus, I haven't even started in on their adjacent bakery. That's right: the gluten-free goodness doesn't stop here! Check out my take on their baked goods here.



The Basics