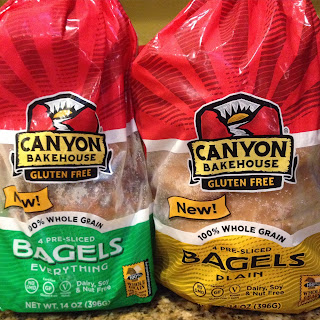 Despite the abundance of gluten-free breads out there lining grocery store freezers, most are barely palatable imitations of the breads we all knew and loved before gluten decided to break up with our bodies. Some are holey, some are tiny, and some are just too darn expensive to try.
I'm thankful I've found several brands I can get behind both for their amazing products and their guiding philosophies. Canyon Bakehouse is one such brand that makes the grade for their uncompromisingly delicious breads, wide availability on store shelves, and reasonable price.
Those who read this blog or follow me know that I have a serious soft spot for bagels, but a lengthy checklist of ideal attributes I look for. When I received the glorious news that Canyon Bakehouse was going to going to expand their product line to include three new products- I jumped for joy, then eagerly awaited my first encounter.
As it happened, my chance came sooner rather than later. In a twist of fate, this opportunity came as I was wearing my "super fan" hat and not my "food blogger" hat. I came by the bagel samples through a giveaway through subscribing to their email newsletter (which I highly recommend for coupons, giveaways and such).
As with Canyon's other gluten-free breads, the bagels come unfrozen, and can stay out several days on the counter for a few days or keep longer in the freezer. Do not put them in the fridge, which could dry them out and distort taste. Those who need additional dietary consideration should note that these bagels are:
certified gluten-free

soy free

dairy-free

nut-free

non-GMO

Kosher

whole grain (8 g or more per serving)

NOT egg free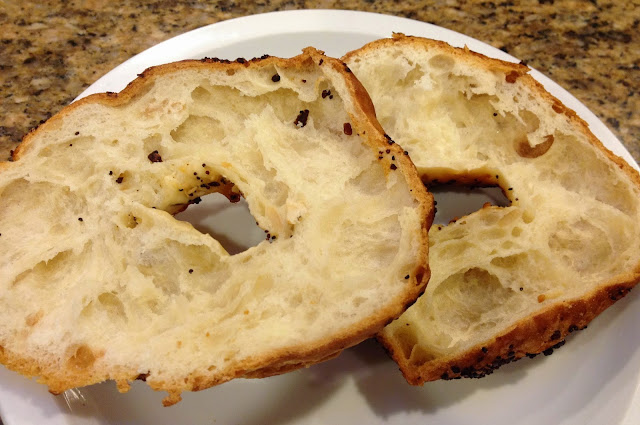 Starting my first taste test with the everything variety, I must first give Canyon Bakehouse a shout-out for an ingenious feat of engineering: preslicing the bagels. Nothing makes me more frightened of losing a finger than trying to slice through still-frozen bagels in an attempt to get my breakfast faster. This renders the bagels perfect for grabbing and going, and makes them handy for use as a sandwich or burger bun.
Defrosted, the bagels are chewy and bready, but most notably gigantic. They'd easily hold their own against the jumbo bagels I drool over as I watch my classmates chow down on as they walk to class. I would definitely eat them as is in a pinch or as a sandwich, but definitely prefer them toasted as the heat takes their yumminess to a whole new level.
The everything bagels are dotted with onion, poppyseeds, sunflour seeds, and garlic. When toasted, the crust crisps up nicely, rendering a soft, chewy underbelly that's just begging to be paired with cream cheese (recommended: Kite Hill almond milk cream cheese). Each bite packs a burst of flavor, largely led by the garlic and onion. As a girl who's love knows no bounds for these two pungent flavors, I was singing the bagel's praises after only a few bites.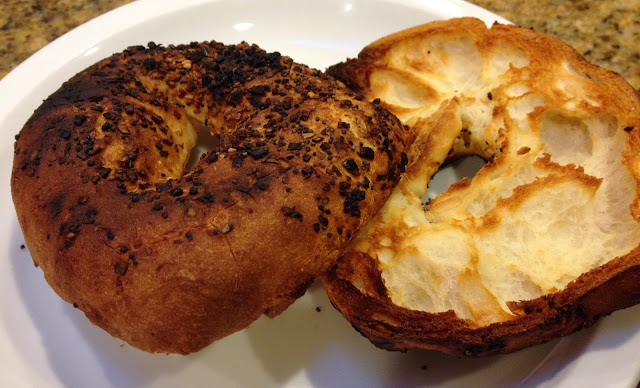 The plain bagels, equally massive in bulk, also defrosted well into a perfectly edible bagel not requiring a toasting to spruce it up. I love the soft interior that actually has a "gluten-like" spongy quality. Plain they may be, the bread has a nice sourdough-esque flavor that is easily adaptable for a plethora of uses: pizza bagels, bread pudding, garlic bread and more!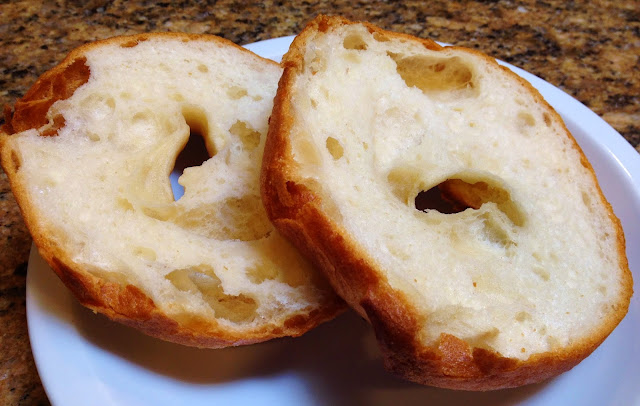 Instead of being dense, airy with gaping holes, or off-tasting in any other way, the bagels easily earned two thumbs up and a round of enthusiastic applause from me. Far from merely being round chunks of mediocre gluten-free bread, these bagels prove that bagels can and should be delicious and affordable. It's great to finally feel like the simple act of getting a bagel is more and more "normal" thanks to the hard work and commitment to the gluten-free community from companies such as Canyon Bakehouse. The best part? They're actually somewhat good for you! Far from being empty calorie and carb bombs, these bread-y morning motivations provide some protein, whole grain carbs, and fiber to keep you going strong.
My personal favorite preparation so far of these bagels is my pesto caprese pizza bagels, which comes together quickly for dinner in fifteen minutes flat. Simply slather on Maison LeGrand vegan, raw pesto (my review here) and toss on campari tomatoes for a simple, yet satisfying lunch, dinner, snack, or appetizer.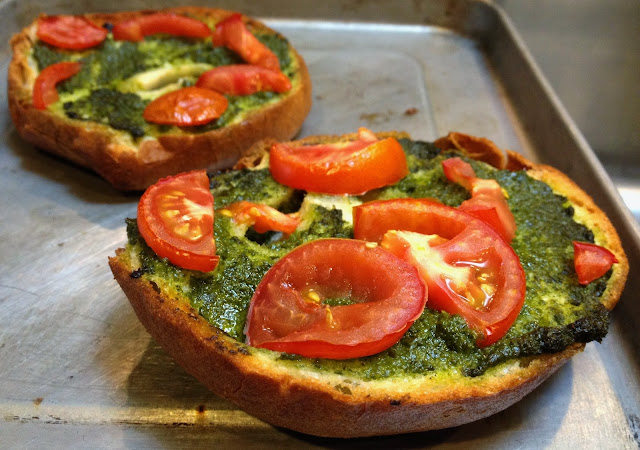 Rumor has it that these amazing bagels will soon be gracing store shelves at Target stores nationwide. The best way to get them in your local grocer is to print off a product request form (click here) which will make ordering them a breeze for local store owners. I'm definitely planning on hitting independent grocers near me to bring more bagels to central Florida and Maryland. Don't have a local store nearby? You can order Canyon Bakehouse products online at this link.


Disclaimer: This review is current to the original publication date. Updates will be noted. Ingredients and manufacturing processes can change without notice. Each product should be reviewed for individual nutritional needs. Feel free to to contact me with any questions or comments. I received the bagel samples complementary from Canyon Bakehouse in a giveaway, but this review is a reflection of my own personal opinion and has not been influenced in any way.