College Confidential is my month-long look at college life with dietary restrictions. From dorm cooking to navigating the dining hall, this all access pass will give tips, tricks, and other tactics for handling a gluten and dairy-free diet in college.
With the final days of my first year in college winding down, I'm finally getting around to putting pen to paper to give some insight into my experience dealing with dietary restrictions in a collegiate setting. Right off the bat, I will put it out there that my experience is not the norm, nor should it be, as everyone has different comfort levels with dining, and each college, provides a different experience through their dining outlets, food sourcing, and staff.


In writing my experiences, I hope to give some tips and tricks that make the transition smoother and provide a perspective I wish I had as a reference going into the adventure. Starting from scratch, I'll wade in to my tell-all tales of navigating college life with the initial steps I took to touch base with my university and lay the groundwork for a successful start.

Tip 1: Start Before "The Decision"
For anyone with a food allergy, dietary restriction, or other food-restricting issue, it's no big secret that sometimes ordinary endeavors such as eating can be a really big deal. Don't wait until you've submitted your applications to begin the gluten-free portion of the college hunt.
Most- if not all- colleges offer walking tours to prospective students and their families. These are great to get a student's eye view of the campus and get a feel for the campus' geography and culture. While visiting, make a point to check out the dining hall or other on-campus dining outlets if possible. I jumped for joy when I spotted gluten-free toasters featured prominently in one school I visited, and was excited to see a chocolate, vanilla, and plain soymilk dispenser at another.
Old Bay shrimp salad from a salad bar on campus.
2. Sign The Deal, Start The Conversation
While it's fun to go on college tours and see the most beautiful aspects of a school, come decision day, it's time to buckle down before moving on (or off) campus and look beneath the pristine surface. The two best places to start your inquiries is the campus disability services department or the food services manager.
While most celiacs, people with food allergies, or those under dietary restrictions may not think of themselves as "disabled," many of these conditions fall under the Americans With Disabilities Act, which requires fair and equal accommodation on the part of the school. Medical documentation is often required, so be prepared to produce support for your requests. Disability services offices can help act as a liaison between you and other campus departments. Need assistance with housing (such as requesting an accessible kitchen)? Need to know who you can contact in regards to dining services? Staff members in this office are a great resource to start off with.
Dining services on the other hand coordinate all dining halls and other outlets on campus. In addition to the hands on chefs, managers, and line workers, the department may also have other support staff such as a dietitian to help you navigate the school's offerings. I made an appointment with the head chef at my school the summer before I moved in, and he was able to give me the contact info for the manager of the closest dining hall to my dorm and give an overview of what services are available. Don't be afraid to speak up and let them know what your staple foods are (so they can stock up accordingly), and reintroduce yourself once school starts so you are a familiar face to all staff members.
An omelet from my campus' dining hall
3. Dorm (But Mostly Kitchen) Shopping
The third tip I'd give for newbie collegiate celiacs or other gluten-free-ers, is to start early with shopping for deals to begin assembling a dorm pantry. Although your campus' dining services may or may not be fully accommodating, there are definitely times when you're too lazy, the weather's too bad, or you just need a break from dining hall food. Having dedicated gluten-free kitchen supplies will allow you to cook without fear of cross contamination (a big hazard for shared dorm cookware).
Although what specific supplies vary from person to person, here's my recommended must-have items to have enough versatility to cook a variety of items:
Nonstick skillet (for omelets, stir fries, pan frying meat, pancakes)

Deep pan (for soups, cooking noodles/rice, steaming vegetables, boiling vegetables)

Baking pan (baking, cooking frozen meals, making homemade pizza)

Toaster (avoid cross contamination if there's no dedicated toaster in your dining hall)

Knives (especially a pairing and serrated knife for slicing fruit, vegetables and bread)

Coriander (keeps gluten-free pasta safe from cross contamination)

Waffle maker (a little luxury for weekend breakfasts)

Micro-fridge (mine was provided by my school, but if yours does not, this is a great investment)

Mixing bowls, oven mitts, utensils, tongs, spatula, and other assorted cooking gear (again, to prevent cross contamination with shared utensils)
Many of these items (knives, electric devices, etc.) are prohibited in residential dining halls. They're not allowed on my campus. However, given my dietary restrictions and need to prevent cross contamination, I was able to work with my university's disability services and housing office to get an exemption to allow me to keep these cooking necessities.
While it might seem excessive, having the independence to cook whenever you want has been freeing for me and has allowed me to strengthen my cooking skills while providing variety so as to keep my taste buds from getting bored. Most college students need ample storage for clothes, but most of the storage space in my dorm goes to my pantry and cooking gear! Anther hint for those supporting incoming college students- cooking supplies make great gifts for high school graduates…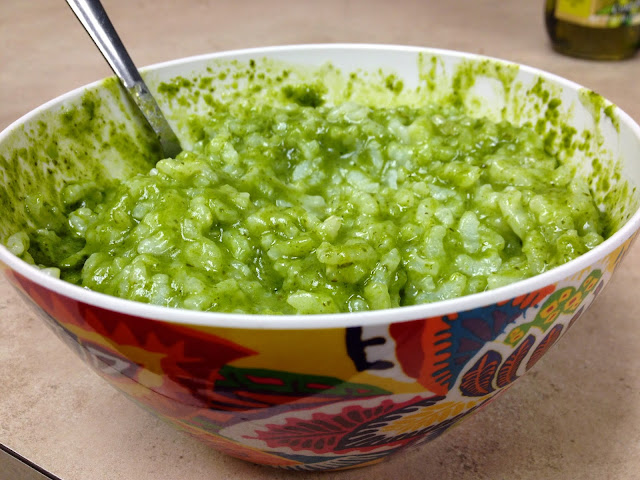 Homemade pesto risotto- yum!
These three tips are the perfect launch pad for this series, and provide good groundwork for any aspiring gluten-free collegiate foodie. In future installments, I plan to share more dorm cooking tips, tales (both good and bad) from my experience, and detail how I'm looking forward to next year's dining arrangements. Note that my experience is unique to me, and will be far different than anyone else's. However, I hope my experience can be a springboard of sorts, providing a helping hand on getting started with navigating the complexities of collegiate dining. Questions, comments, concerns? Do not hesitate to email me for more information and I'll do my best to answer your inquiry. Reach me at: eatingoutwithout@gmail.com.