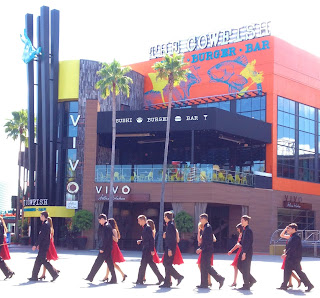 CityWalk at Universal Orlando Resort is a hot spot for tourists and locals alike. The restaurants are aplenty and the people watching is hard to beat. My goal this summer is to explore more of them, as I am a Universal Orlando passholder, but in the mean time, I've assembled a guide to gluten-free eats in this entertainment mecca.


With the exception of a few restaurants that I've actually eaten at (full reviews will be linked to the post), I have not actually visited these restaurants, but am simply providing the information found on the website. Also to note is that the following menu items are marked for gluten, but not dairy. Have an inside tip or have been there yourself? I'd love to know and expand this restaurant round up with crowd sourced information. Your best bet with any of these restaurants is to contact them directly, as they are not owned or run by Universal Orlando.



The Cowfish
Straddling the surf and turf domain, the Cowfish is a Charlotte, NC export that serves up sushi and burgers in style. This restaurant is perfect for parties who cannot decided between perfectly crafted sushi or a gourmet hamburger. On their menu, these items are marked as "gluten-sensitive:"
Edamame (also vegetarian)
9 Piece Mix (chef selection of tuna, salmon, and yellowtail served over ice)
Vegetarian Roll (avocado, cucumber, asparagus)
Spicy Tuna Roll (tuna, cucumber, spicy mayo)
Spicy Yellowtail Roll (yellowtail, scallions, spicy mayo)
Philly Roll (salmon, avocado, cream cheese)
A reader has comment to let me know that they have gluten-free buns on hand and can
accommodate
most allergies beyond just the marked ones on the menu.
Vevo Italian Kitchen
Serving up modern Italian fare, Vevo Italian Kitchen promises to serve up the best of old and new authentic Italian cooking. Gluten-free penne is on hand to make most pasta dishes gluten-free and other menu items can be adapted. Allergen protocols are in place. See my review of Vivo Italian Kitchen by clicking here.
Jimmy Buffett's Margaritaville
As one of Florida's most iconic musicians, Jimmy Buffett's songs easily transport you to a land far away where the sea breeze is fare and the sailing is good. I visited once before (see that review here), and enjoyed the shrimp dish I tasted, and like that they have a dedicated gluten-free menu. For that, check out my review post.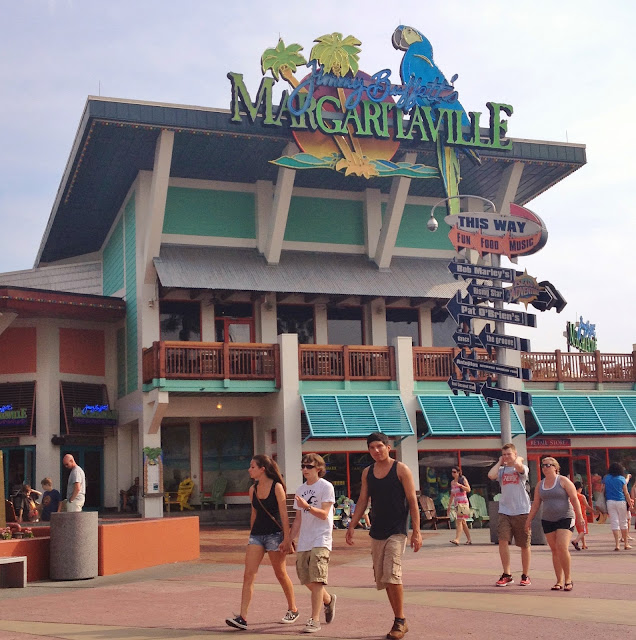 Bubba Gump's Shrimp Company
In the iconic film Forrest Gump, shrimp fisherman "Bubba" Blue proudly proclaims that fish is the fruit of the sea. After all, he reasons, you can barbecue it, broil it, bake it, saute it, kebob it, put it in gumbo, deep fry it, stir fry it, and prepare it in countless other ways. At this seafood-lovers outpost, these items are on the gluten-free menu:
Traditional Shrimp Cocktail
Classic Chicken Caesar Salad
Pear & Berry Salad
Accidental Fish & Shrimp
Shrimp & Veggie Skewers
Salmon & Veggie Skillet
Steamed Broccoli (side dish)
Jasmine Rice (side dish)
Kid's Grilled Chicken
Antojitos Authentic Mexican Food
Recently on a Mexican food kick, I was delighted to find that Antojitos, a CityWalk newcomer has gluten-free items marked on their regular menu. I will definitely be making a stop at this cantina-style restaurant soon, and will definitely weigh in on their gluten-free options. One cool experience they offer is guacamole made table-side to ensure freshness and individualized customization. Here are other options that can be prepared for gluten-free diners:
Enchiladas Verdes (chicken, queso fresco, salsa verde, and lime crema)
Enchiladas Vegetarianas (black beans, roast corn, poblanos, mushroom, enchilada sauce, queso fresco, and lime crema)
Adobo Chicken Salad (chicken, avocados, romaine, mango, jicama, w/ cilantro dressing)
Chicken Tinga Tacos (chicken, chipotle pepper, pineapple salsa, queso fresco w/ hard corn shells)
Carne Asada Tacos (steak, tomatillo salsa, queso fresco w/ hard corn shell)
Fish Taco (mahi mahi, mango salsa, napa slaw, avocado, and lime crema)
Taco de Camarones al Pastor (guajillo shrimp, purple cabbage slaw, pineapple mint salsa)
Fajitas Del Comal (choice of adobo chicken, grilled skirt steak, fire roasted vegetables, or a combo of each with pico de gallo, shredded cheese, lettuce, sour cream, and guacamole)
Bob Marley: A Tribute to Freedom
Taking the cake for one of my favorite CityWalk restaurants, and one of the best restaurants in Orlando is this unassuming Jamaican restaurant that is one of CityWalk's best kept secrets. This restaurant has a dedicated gluten-free menu, and a vibe that will have you relaxing within moments of entering. You cannot beat the island staples of jerk chicken, stuffed peppers, and other flavorful offerings. For my full review of several dishes and an expanded look at Bob Marley's gluten-free menu, check out that blog post at this link.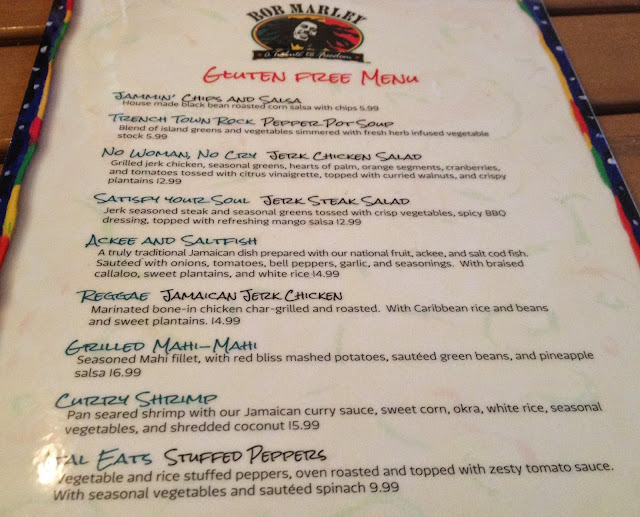 In short, this post is merely a collection of gluten-free available items at CityWalk restaurants, but is in no way an endorsement of each restaurant's prep protocols. Also, menus and ingredients are subject to change. For the restaurants I have visited, you can read more in the individual reviews of each. For the others, I hope to provide more insight in the future to elaborate on the degree of gluten-free friendliness each has.
For more information on CityWalk and the restaurants mentioned above, click here.