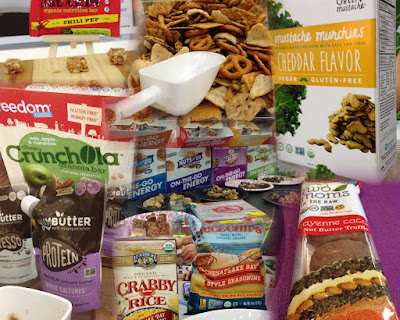 This review is part of my coverage of the Natural Products Expo East 2015. For a overview and to enter my swag bag giveaway, click here.


Having already reviewed sweets, I naturally turn to snack foods, which this year brought a lot of exciting finds, most of them from new-to-me companies.


In this recap, I'm dishing up all about bars, chips, and nut-based snack foods that will certainly be a welcome addition to my collegiate diet, which is often lacking in fun snack foods. Perfect for kids of all ages, the snack selection featured ranges from kid-friendly munchies to more sophisticated offerings, and even includes an Old Bay-infused product that totally rocked my world as a proud semi-Marylander.

Chips and Crackers
Harvest Stone Snack Mix (Original)
While I hate invoking the names of major gluten-full brands and companies, I couldn't help but compare Harvest Stone's snack mix to Chex Mix. However, in comparison Harvest Stone's snack mix totally blew Chex's version out of the water for me. I liked the mix of pretzels and assorted grain crackers, which provided a nice mix of textures, and noted that the concoction had the perfect saltiness and savory-ness to satisfy at snack time. For more information, click here.
Lundberg Farms Crabby Rice Chips
Lundberg's whole grain brown rice chips are coated with "Chesapeake seasoning," and practically perfect for an afternoon on the Chesapeake Bay or for tailgating before a football game. These chips are vegan and non-GMO as well. While I didn't get to sample it, Lundberg also offers a crabby rice meal-in-a-box, which I definitely will be sampling in the future! Check out their website for more information about these or other Lundberg products.
Green Mustache Cheddar Flavor Mustache Munchies
Green Mustache, purveyors of green superfood smoothies, debuted their fresh off the production line chedder crackers. While not wanting to make another parallel, think Goldfish, only healthier and tastier. While the flavor screams "cheddar," these crackers are vegan and made with kale and chia seeds to boost the nutritional profile of snack time. Read more about Green Mustache here, note that these crackers are not yet on the website.
Bars
Simple Squares Chili Pep Bar
Boosting only 5 ingredients, as well as proudly non-GMO, raw, and paleo, Simple Squares' newest flavor- chili pep- put a definite spring in my step. As a spice lover, I liked the kick that the bar packed, as well as a the texture, which provided a nice amount of chewiness. These bars are also free from gluten, dairy, corn, soy, and refined sugars. Check out this link to learn more about Simple Squares.
Two Moms in the Raw Cayenne Cacao Truffle
While a little more on the indulgent side, this raw nut butter truffle ups the nutritional ante while adding some pizzazz to the decadent dark chocolate with a sprinkle of spice. I like that these power truffles make getting plant protein delicious, and that they are made with only 7 ingredients, and are allergen-free (except for almonds). Check out these bars on Two Moms in the Raw's website.
Freedom Foods' Granola and Muesli
Bars
I am a huge super fan of Freedom Foods because I love how they consciously curate their products to be allergen-friendly and made with real, quality ingredients. Their new line of granola and muesli bars definitely uphold the high standard I've come to expect from them. Of the three, my favorite was the apple cinnamon bar, with the muesli bar earning a solid second place. Click here to learn more about Freedom Foods.
Nut-Based Snacks
Yumbutter Probiotic Almond Butter
I needed no introduction to this socially conscious company that makes a pretty fab product. At Expo East, Yumbutter debuted their new protein almond butter with probiotics. As a dairy-free eater, sneaking in probiotics definitely helps keep my digestive system happy, and I certainly cannot complain about 12 grams of protein in a serving. I liked the thick, creamy taste, and will definitely be scooping several pouches up when they hit store shelves. Read more about Yumbutter's products and mission on their website.
Betty Lou's Nut Energy Balls
Stopping by Betty Lou's booth was like visiting a gluten-free wonderland, as the sheer array of gluten-free offerings was astounding. With snacks ranging from fruit bars to crackers, what really caught my eye were the protein-packed nut balls, which had a nice texture from the chopped nuts used to construct the snack. While not all of Betty Lou's products are safe for me to eat, the vegan almond butter and cashew pecan balls topped the list of products I tried. Click here to learn more about Betty Lou's.
Disclaimer:Ingredients and manufacturing processes can change without notice. Each product should be reviewed for individual nutritional needs. Feel free to to contact me with any questions or comments. I was free samples from each company, but my thoughts on and review of each product are reflection of my personal opinion.