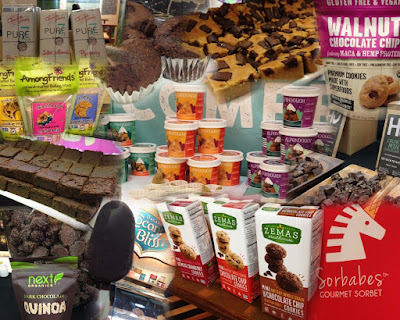 This review is part of my coverage of the Natural Products Expo East 2015. For a overview and to enter my swag bag giveaway, click here.


If there's one sure thing about any gluten-free event or expo, it's that there will definitely be tons of sweets to sample. Expo East this year lived up to this gluten-free fact in grandiose fashion, as I was able to encounter plenty of sweets in all shapes and sizes.


From chocolates and cookies to sorbet and ice cream, I encountered a plethora of products from companies both familiar and new-to-me. I was impressed by the way each product that makes this round-up was able to stand out it its own way, distancing itself from the pack of gluten-free goodies already flooding the market. Without further ado, let's delve into the deliciously sweet surprises found on the show floor!



Baked Goods
Pure Genuis Brownies and Blondies
Starting first with literally the first food I sampled on day one, I have to give major props to Pure Genius Provisions, who made their grand debut at the Expo. With brownies made with black beans and blondies made with garbanzo beans, I liked how these baked goods boosted all the flavor of homemade baking with an added protein, fiber, and an incredible soft and chewy texture. Read more about Pure Genuis at this link.
Zemas Madhouse Foods Cookies
While not quite on the market yet, I got to stop by Zemas booth to sample their new line of superfood cookies, and chat with Jill Motew, the company's founder. I love how she channeled her passion for healthy, yet totally delicious foods into these four new cookie flavors, that were soft-baked and sure to please kids of all ages. For more information about Zemas Madhouse products, click here.
Among Friends Baking Mixes
Although I have sampled and reviewed many cookie mixes in my time as a blogger, Among Friends definitely stood out, thanks to an excellent chocolate chip cookie and incredible friendly staff. I loved how the truly homemade-tasting cookie rivaled any I remember making in my gluten and dairy-free youth and that the fact that all mixes are also dairy-free and vegan makes baking for my gluten-free and vegan friends a breeze. Check out their website here.
AlpenDough
If there's anything more indulgent than a gluten-free cookie, it's eating gluten-free cookie dough raw. AlpenDough's ingenious allergen-free, vegan cookie dough comes in three flavors (chocolate chip, snickerdoodle, and double chocolate chip), and is perfectly safe to eat raw. While I wasn't able to try it in its dough form, the finished cookies emerge delicious, proving that either way you consume AplenDough, you can't lose. Read more here.
Spiffy Baby Brownies
Brownie bites are definitely one of the more underrepresented of gluten-free desserts. Hailing from Canada, Spiffy's products are artisan-inspired and definitely of high quality. The cute bite sized brownie were perfectly moist and chocolatey with a nice texture that bordered cakey and fudgy. While not currently sold here yet, learn more about their parent company at this link.
Flax 4 Life Brownies
I am familiar with Flax 4 Life's flaxseed muffins, but loved learning more about their new muffin line because I am always intrigued by healthy twists on dessert. The chocolate muffin had a rich chocolate flavor, moist texture, and a nice boost of fiber, protein, and omega 3s. With these brownies, I could totally get behind a brownie-a-day diet. Read more on their website.
Sustainable Indulgence Cookies
Last, but certainly not least of the baked goods I sampled was a line of superfood cookies from new-to-me Sustainable Indulgence. Featuring maca, chia, goji berry, flax, lucuma and hemp seed protein, these vegan cookies definitely are deceiving, as their indulgent taste certainly doesn't suggest a health halo. I especially loved the pecan maple bliss and walnut chocolate chip. For more information about these cookies, click here.
Frozen Desserts
Luna and Larry's Coconut Bliss Salted Caramel Ice Cream Bar
While I am not a big coconut ice cream person, I cannot deny that Luna and Larry's Coconut Bliss new salted caramel ice cream bar totally rocked my world. I love how the dark chocolate coated bar contained a rich, creamy salted caramel ice cream that did not taste too strongly of coconut, a major turn off for me. As an added bonus, these bars are vegan and organic too. Read more about Luna and Larry's on their website.
Sorbabes Gourmet Sorbet
Straight outta New York, Sorbabes is revolutionizing the normally dull sorbet aisle with their fun blends that allow maximum indulgence sans gluten, dairy, and soy. I sampled the raspberry with dark chocolate and loved how the sorbet had a decadent, creamy texture that was refreshing without being heavy or dense. Sorbet does not have to be boring, and I'm so glad that Sorbabes is making the case for truly remarkable sorbet. Read more here.
Hailing from Hu Kitchen, a paleo-inspired fast casual restaurant in New York City. Hu paleo chocolate provides modern-day indulgence with all the health benefits of primitive ingredients. With no cane sugar, soy lecithin, refined sugar, gluten, emulsifiers, GMOs, or animal byproducts I loved the rich complexity of the handcrafted chocolate, especially the mint and almond butter and puffed quinoa bars. Read more here.
Pure7 Chocolate
Another impressive paleo chocolate offering, Pure 7 crafts their raw chocolate bars using top quality ingredients that are free from gluten, dairy, soy, chemicals or refined sugars. As a chocolate lover, I love how the bars are crafted consciously to ensure the chocolate really is a healthy indulgence. Read more about Pure7 Chocolate on their website.
Next Organic Dark Chocolate with Quinoa
As a Nestle Crunch bar lover in my pre-gluten-free life, Next Organic's dark chocolate with quinoa bites was quite a delicious find on the show floor. I love how this vegan indulgence combines a decadent dark chocolate with quinoa to create a treat with a nice, crunchy texture. Although this is Next Organic's only vegan offering at the moment, I got to sample some new products coming down the the line and I cannot wait for them to hit the market! For more information, click here.
That's a wrap! Stay tuned for the next round of recaps featuring my pics of vegan meats and cheeses.
Disclaimer:Ingredients and manufacturing processes can change without notice. Each product should be reviewed for individual nutritional needs. Feel free to to contact me with any questions or comments. I was free samples from each company, but my thoughts on and review of each product are reflection of my personal opinion.