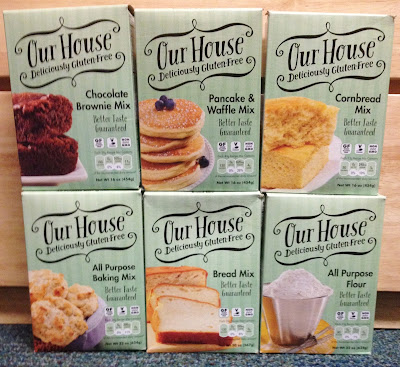 This is part one of a two part review. Find part two at this link.


As a college kid who has severed ties with my university's meal plan, I gave up the convenience of on-campus dining in favor of cooking entirely for myself. While I am quite enjoying getting to experiment in the kitchen, I appreciate now more than ever the convenience of baking mixes.


I first came across Our House Baking Mixes in September at the Natural Products Expo East. While I could not try the samples on the show floor, I was impressed by the company's allergen-free and vegan formulation and eagerly agreed to give the brand a full look. When my special delivery arrived at my dorm last month, I eagerly began the delicious task of putting the six mixes I was sent to the test.


This first review has a bread theme to it, as it covers Our House's baking, cornbread, and bread mix. All of Our House's gluten-free mixes and flours are made in a dedicated gluten-free facility and the manufacturing process is designed to ensure the products really are top allergen free. While the recipes for the products may call for allergen-containing products such as milk or eggs, the mixes and flours themselves are vegan and can be made with vegan substitutes. In addition, all of Our House's products are GMO free.



All Purpose Baking Mix
Starting first with the all purpose baking mix, this flour blend is the gluten-free answer to Bisquick, and can be used to make sweet or savory baked goods. I decided to test it using their own recipe for gluten-free biscuits that was included on the back of the box itself. The prep and bake process, while lengthy, produced absolutely beautiful biscuits.
Fluffy, buttery, and achieving the perfect crumb I expected out of the biscuit, both the mix and the recipe was a total success, especially since I was working with dairy-free substitutes. While I will definitely be making these biscuits again, I think that in my kitchen my usage of the mix would be limited, as I have never cooked with all purpose baking mixes before.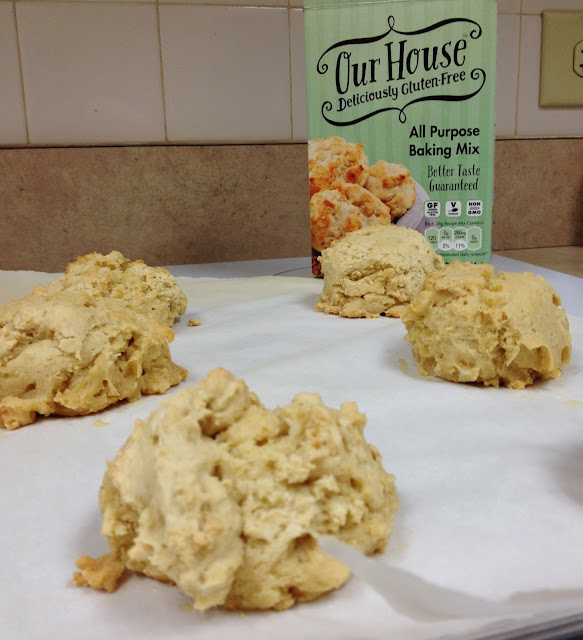 Cornbread Mix
Next up for a taste test was the cornbread, which proved to be the simplest of the three mixes this post covers. I am a new cornbread convert, and had shied away from other mixes due to their high sugar content. In this mix, sugar (in the form of cane sugar) is still present, but plays a more supporting role than a starring one. Besides the lower sugar content, the mix definitely scores points for a recipe that is easy to make and calls for pantry staples, not crazy ingredients.
My cornbread came out perfectly in the oven despite using a slightly smaller baking pan than was called for. It had a nice golden corn flavor with a courser consistency that I really liked. As I cannot eat a whole pan of cornbread in one sitting, I froze most of the slices. They froze beautifully and were a quick and easy meal addition when I wanted a slice of cornbread to accompany chili or soup.
Bread Mix
Just as with cornbread, homemade bread is a luxury I rarely enjoy both out of fear of complicated recipes and lack of experience. Luckily, Our House's bread mix makes gluten-free bread-making an approachable affair, one that I found really easy with delicious results in my dorm kitchen. The box provides recipes for both sandwich style bread and focaccia, and after reading the recipe and instructions decided to make the latter, as it had fewer ingredients and a simpler prep method.
After whipping egg whites, preparing the dough, and letting it rise, I sprinkled on sea salt and rosemary for light seasoning. The bread baked beautifully, emerging from the oven a beautiful shade of brown. The bread itself is fluffy and light, and perfect for use as a pizza crust (slice horizontally) or accompaniment to Italian dishes. The mix makes a 9″ x 13″ pan, which is definitely enough to feed you family and friends this holiday season. I never thought I'd be a gluten-free bread baker when I first started out years ago, but am so glad I can now count this among my learned skills post-gluten.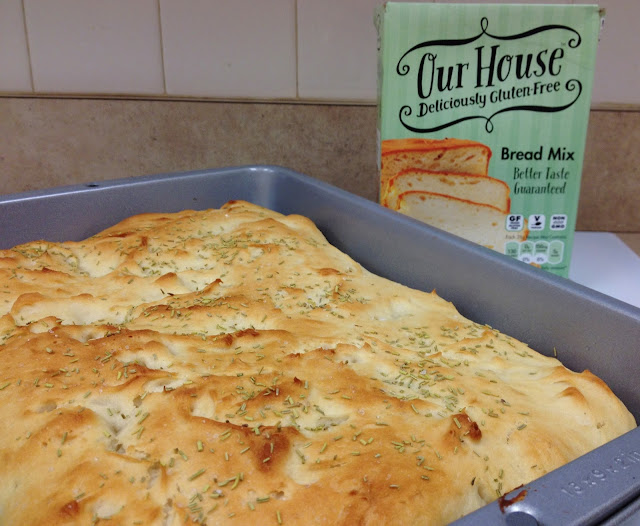 To get more information about Our House, click here to visit their website. In the next review, I will cover the brownie, all purpose flour, and pancake/waffle mix.


To see the recipes I used for the focaccia and biscuits, click here.


Disclaimer: This review is current to the original publication date. Updates will be noted. Ingredients and manufacturing processes can change without notice. Each product should be reviewed for individual nutritional needs. Feel free to to contact me with any questions or comments. Our House sent me samples free of charge for review purposes, but the review is a reflection of my personal opinion.