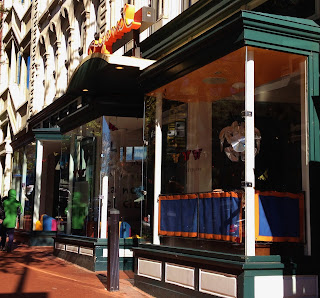 With less than 48 hours to explore around Washington D.C., I knew I had to plan efficiently to cover all of the sightseeing and restaurant exploring that I wanted to accomplish over this past weekend.
After rising before the crack of dawn to catch a train into the city I spent Saturday morning exploring the Capital, Supreme Court and Library of Congress. After a sufficient amount of sightseeing for the morning, I made my way to Oyamel Cocina Mexicana for a quick stop for lunch before more exploring later in the day.
Located a few blocks from the National Mall, Oyamel is a great option for those with various dietary needs, because they not only are gluten-free friendly, but aware of other allergens.
From the moment I walked in the door, I was in love with Oyamel's design scheme, which featured an array of butterflies in wonderfully cheerful colors such as pink, orange, and turquoise. The interior is festive, warm, and welcoming, and definitely drew me in. I was seated right away, and noticing a notation on my reservation, the hostess gave me an allergen menu before I even had a chance to ask for it myself. Talk about proactive service! Because the menu is rather lengthy (with lots of good options!) To see the full brunch menu with allergy notations, click here.


Because the menu is set up in tapas style, I definitely knew I wanted to jump around it a bit and try several dishes. It was recommended that two to three of the tapas portions would be a good serving size for a single person.


Once I let my waitress know that I was gluten and dairy-free, she immediately let me know that the complementary chips were off limits for me, as they are fried in a shared fryer. When I decided what I was going to order, she assured me that she would let the kitchen know so that they could take extra precautions to ensure my meal's safety.


I first ordered a bowl of the caldo tlalpeno, a traditional chicken soup. The best way I could describe it is Mexican chicken noodle soup sans noodles. The broth was incredibly flavorful and rich, perfect for a chilly day. Submerged in it were carrots, green beans, cilantro, chicken and avocados. While all were tender, the chicken was especially so. The portioning was perfect, enough to satisfy but not enough to fill me up.





For a second act, I decided upon the taco pescado Baja California, or fish taco. Because of the tapas portions of the menu, tacos are sold individually, allowing for a mix and match approach. The fish was tender and seasoned perfectly, and accompanied by cilantro, lime, pickled ancho chilies and a cabbage slaw. I liked how to the slaw provided a delicious creaminess and all of the toppings were noticeably fresh. My only complaint was that the tortilla was a little flimsy and cracked in the middle, unable to support the abundance of toppings.





Completing the trio, was the pollo a la parrilla con aquacate, or chicken taco. This taco was topped with guacamole and green onion. I liked the spice on the chicken thigh, and liked the complimentary coolness and creaminess of the guac. I normally am not a huge guac fan and was surprised by how much I enjoyed this taco. Unlike the fish taco, the tortilla on this one held up under the weight of the toppings and did not split down the middle.





Overall, I really enjoyed all three of my tapas dishes. I definitely wish I could have enjoyed the meal with a companion, as it would have allowed for more tasting across the menu. I definitely would go back again, and look forward to future visits. Oyamel is definitely a good option in a good location, and has plenty of gluten-free options to please a variety of tastes.




Disclaimer: This review is based upon the information I have at the time of the review and does not reflect changes in ingredients or availability of items. Please contact the restaurant directly for up-to-date information and feel free to contact me with any questions or comments. I was not compensated for this review and it is a reflection of my personal opinion.