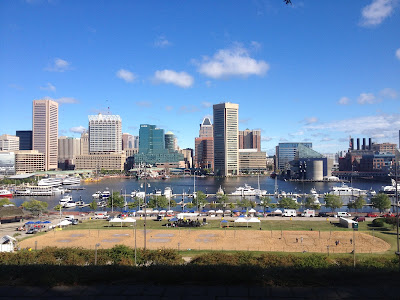 It is hard to believe that 2015 is rapidly coming to a close. As I prepare to welcome in 2016, I cannot help but look at what a year it has been on Eating Out Without Gluten and Dairy. This year marks my blog's first full calendar year in operation, and in the past 12 months I have discovered many a great gluten-free restaurant along the way.


As I did last year, I wanted to reflect on the year at was and round up all of the Baltimore restaurants that I have featured on the blog. It definitely was an arduous task to narrow down the best of the best new Baltimore eats, but I think this top ten list is a pretty good representation of the new-to-me restaurants I discovered this year.



10. Lebanese Taverna (Review Link)
With clear gluten-free menu labeling and killer views of the harbor, Lebanese Taverna is a perfect choice for locals and tourists alike, with Lebanese Taverna's prime location in Harbor East. I quite enjoyed my chicken kebabs and definitely will keep the restaurant in mind for celebratory occasions in the future.
Locating in the foodie incubator that is Belvedere Square Market, Ejji is notable as my first foray into the world of real ramen (not the cheep-o college junk food). Ejji is definitely a must-do for the more adventurous of foodies because the make-your-own style of the restaurant allows for creative arrangements of curious ingredients.
One of the relative newcomers on the list, Falafelicious opened its doors only a few months ago in busy Canton. I love the cute walk-up stand and pretty darn friendly gluten-free menu. I was impressed with the flavorful falafel salad I had as well as the friendly service I received.
As a college kid I am always on the lookout for pizza options that fit my budget and unique taste. Pizza Studio, another recently opened restaurant enabled customers to build custom pizza masterpieces that allow you to show off your culinary flair. Another cool feature? Pizzas cook in two minutes flat!
6. Amsterdam Falafelshop (Review Link)
While not precisely in the Baltimore area, I cannot make a list of regional eats without including this gluten-free find in Annapolis. With an array of gluten-free and dairy-free options (and a dedicated fryer) it's easy to have peace of mind at this waterfront restaurant.
5. Pure Chocolate by Jinji (Review Link)
Also located in Belvedere Square Market (as well as Ejji Ramen), Jinji Chocolate proves that indulgence can be an inclusive affair for eaters of all types and persuasions. Producing artisan chocolate that is vegan, gluten-free, and raw, Pure Chocolate is not to be missed and a perfect second act to grabbing lunch or dinner at Belvedere.
4. Umami Global Bistro (Review Link)
Umami could be considered the dark horse on this list. Located in Catonsville, I was drawn to the restaurant for its gluten-free and vegan friendly menu. What I found was a phenomenal restaurant that went above and beyond to make sure my meal was safe and memorable.
Although my love for pizza has waned a bit this year, I often dream of my visit to Verde, which introduced me to quite possibly the best pizza I've ever had… period. With flour imported from Italy, Verde definitely goes above and beyond to make their gluten-free pizzas authentic and unforgettable.
Baltimore is sorely in need of more 100% exclusively gluten-free restaurants, but Harmony is a big step up for our city. Exclusively gluten-free and mostly vegan, Harmony is the brick and mortar extension of their Waverly Farmers' Market stand which has become a weekly staple in my life. The couple behind Harmony is super nice and the food both health-conscious and delicious.
1. Tortilleria Sinaloa (Review Link)
Leading the pack of excellent Baltimore restaurants is the unassuming, but truly incredible Tortilleria Sinaloa. With two locations in Fells Point and Little Italy, this restaurant serves up an entirely gluten-free menu of tamales, tacos, and other Mexican delicacies. With tortillas made fresh in-house don't leave here without a kilo (or more) fresh tortillas and a back of chips to enjoy later.

Disclaimer: This list is a collection of my favorite restaurant reviews of 2015. It is a reflection of my opinion and is no way affiliated with each of the restaurants mentioned. I have not been compensated for this post in any way.