As a busier than ever college student tackling classwork, internship, and working this summer, my free time has been dramatically reduced, leaving little time to eat out or cook from scratch. Most days, I rely on microwave-friendly fare, which rightly has not earned a reputation for health or taste value.


However, while in Philadelphia, I stumbled across Snap Kitchen, an Austin, TX export that recently set up their first East Coast locale in Philly. Snap Kitchen is an innovative shop that perfectly captures the fun of gourmet cooking without the mess of… well, actual cooking. The location I visited was in the historic part of Philly, located just a few blocks from Independence Hall, the Constitution Center, and other landmarks from this history-rich city.


What is so revolutionary about Snap Kitchen is that they stock pre-made breakfast, lunch, dinner, and snacks that are primed for grab-n-go convince but made from real ingredients that you can actually pronounce. Everything is individually portioned, and labeled to accommodate various allergens and special diets (vegan, paleo, etc.), and user-friendly, requiring only a reheating in the oven or microwave to bring the food to life.


I sought out Snap Kitchen namely for breakfast (as the hotel I was staying at had few- if any- safe options), however, once realizing what a treasure trove it is, I stocked my family's travel cooler with lunch and dinner selections, which I will focus on in an upcoming post.


Most items at Snap Kitchen are gluten-free, just make sure to keep your guard up. Steer clear from granola-containing items (namely parfaits) and the pita chips, which are gluten violators. Do note that items are not made in a dedicated gluten-free facility, but steps are taken to prevent cross contamination.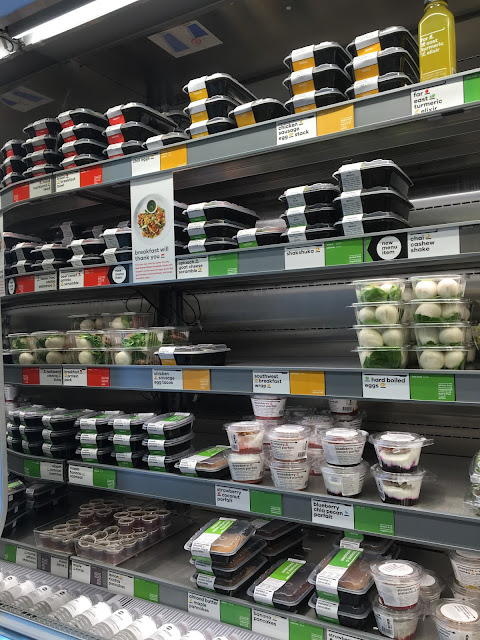 Only a slice of the many options!
One whole wall of Snap Kitchen is dedicated to the refrigerated shelving on which the meals are organized by type and contents. Green means meat-free, red indicates red meat, and the goldenrod color is for poultry. Each label announces a meal's attributes including vegetarian, vegan, paleo, dairy-free, gluten-free, sodium conscious, and more. On their online menu (click here), sort options by meal type and restriction to find food that fits your profile.


Because the lure of gluten-free pancakes was the siren song that drew me in to Snap Kitchen, I had the deliciously difficult decision to choose between the banana pancakes and almond butter and maple pancakes. Both are gluten-free, and dairy-free, but I decided to go with the banana pancakes because they were grain free and paleo. Only nine ingredients go into these, and all are entirely pronounceable and recognizable.





They microwave in a flash and I broke my syrup-avoiding tendencies to try the locally-sourced small batch maple syrup from a farm in Westfield, PA. The bananas have a wonderful banana-y smell and the pancakes were thin, but fluffy in texture. You'd never guess that they are free from gluten, grains, and dairy, because they were so delicious, and the added sweetness was a nice treat to start the day. For a summer breakfast, they were heavy, but I had no regrets and dreamed about the pancakes for the rest of the day.





Restaurant-quality fare from the microwave? Snap Kitchen perfects this all-too-needed concept for busy families, dietarily restricted college students, and anyone who wants to eat well but not face a pile of dirty dishes at the end of the day.


While not precisely friendly for a sit-down meal, this should definitely be a first stop for travelers before heading to a hotel to stock the mini fridge with safe food. With locations around the city, it's easy to incorporate Snap Kitchen into your itinerary.


As I relished my meal, I asked a staff member if there were plans for expansion- namely in the Baltimore or D.C. area. She confirmed that there was interest in my neck of the woods, so I'll be eagerly awaiting a potential Snap Kitchen near me. The only drawback? I may never cook again should there be one in my vicinity.


In Part 2 of this post, I'll detail the lunch and dinner entrees I picked up, not wanting to leave without at least a few more meals to sample.



Disclaimer: This review is based upon the information I have at the time of the review and does not reflect changes in ingredients or availability of items. Please contact the restaurant directly for up-to-date information and feel free to contact me with any questions or comments. I was not compensated for this review and it is a reflection of my personal opinion.