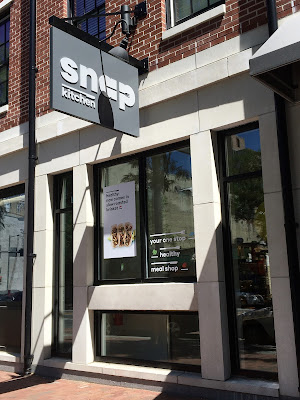 Discovering Snap Kitchen in Philadelphia was definitely the highlight of my trip to the historic city. Snap Kitchen is an Austin, TX export whose first foray into the east cost is Philly, with (hopefully) more locations coming soon to the mid-Atlantic (namely D.C. and/or Baltimore).
The concept is simple and truly genius, because Snap Kitchen is a perfect merging of a supermarket and and a restaurant, promising top quality fare that is healthy, affordable, and convenient. Each store is stocked with single portioned, premade meals coving breakfast, lunch, and dinner. Diners can choose to enjoy the fare there, using the store's microwave, or take it to any destination for a grab-n-go meal.


Most of the dishes are gluten-free, with many labeled as paleo, dairy-free, or vegan, to help people find fare perfect from them. From meat eaters to plants-only foodies, there's something for everyone at Snap Kitchen, and this review delves into the lunch and dinner entrees I tried. For my breakfast review, click here.


Note that this review covers items purchased in July 2016. Some items are seasonal, and the menu can change without notice.



Crispy Chicken
The crispy chicken was made crispy through a sliced almond coating, which creating an interesting texture combination (but I wouldn't describe it as crispy). The meat was tender and simply seasoned, which definitely gave plenty of room for the roasted carrots and pesto to shine. The roasted carrots were sweet and flavorful while the pesto was chunky and definitely added flavor that complemented both the carrots and chicken. It was a solid meal, but a little plain by my tastes. Still, it definitely satisfied and saved me a night of cooking after a full workday.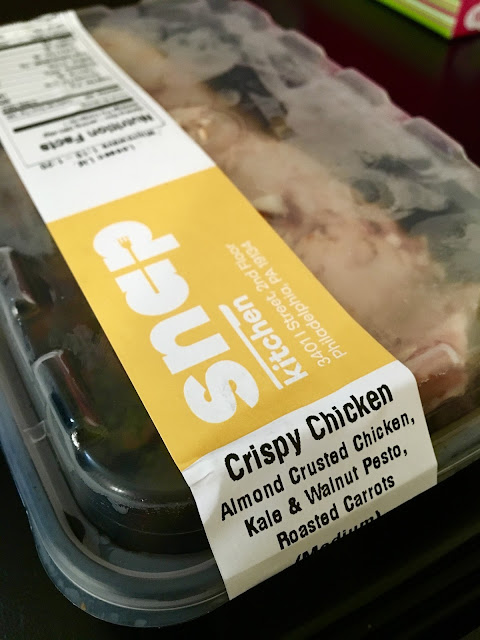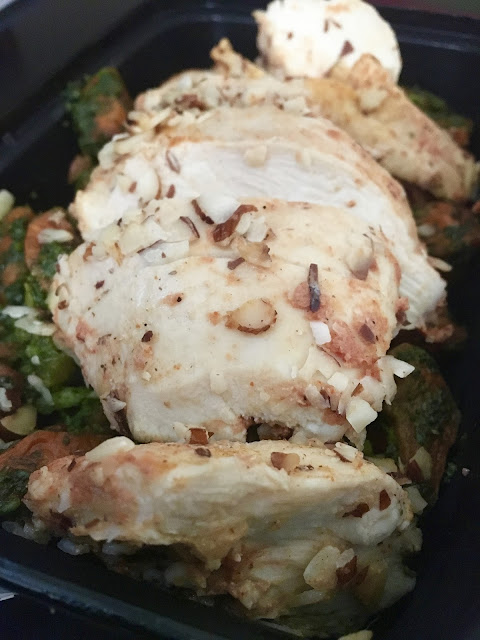 Turkey Picadillo Stuffed Peppers
As a stuffed pepper enthusiast, I'm all about this self-contained meal, but not a fan of labor intensive meal prep that goes in to making them. This meal contained two whole bell peppers, stuffed with ground turkey, tomato sauce, and veggies. I loved the spiciness of turkey seasoning, sweetness of the pepper, and bright tanginess of the tomato sauce. The meal was definitely enough for two servings, and was kind of messy to eat, as the peppers tipped a bit en route, creating a river of tomato sauce covering the bottom of the tupperware. This definitely scored two thumbs up from me, and would be a meal I'd order again.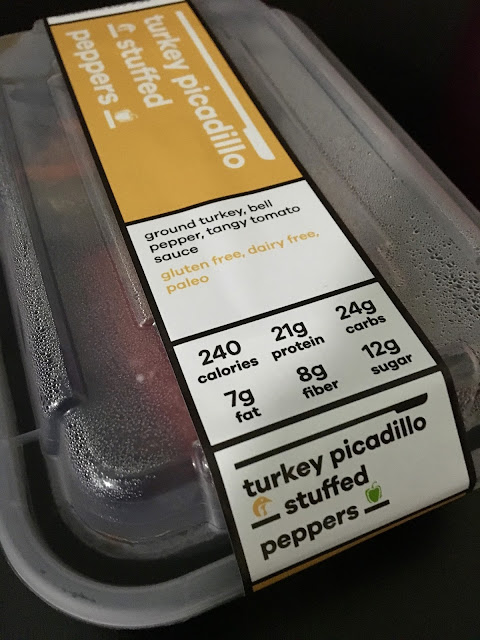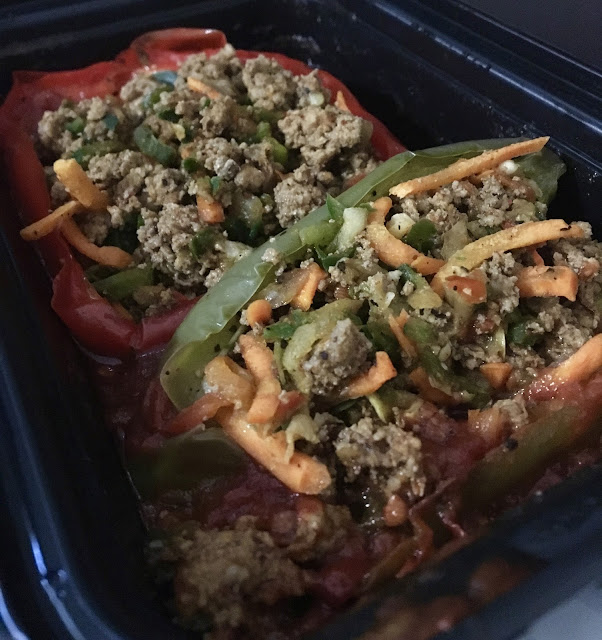 Lentil Soup
The item I enjoyed the least was the red lentil soup. I was not a fan of the lumpy texture and bland flavoring, but I also tried it on the expiration day (Snap Kitchen items expire a few days after purchase). Maybe mine was a fluke, but this was the only item I purchased I just didn't like.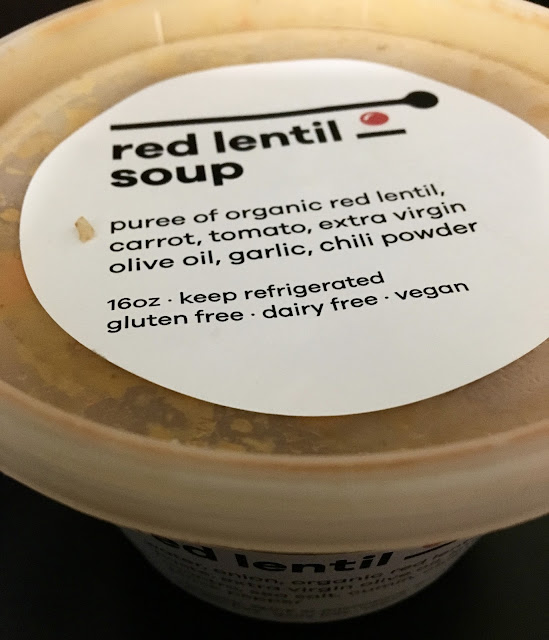 Chicken Chile Enchiladas
If the soup was the item I liked least, than the chicken chile enchiladas was the item I liked most (and regretted not purchasing two or three more containers of it). The meal consisted of three paleo tortillas wrapped around seasoned chicken and sundried tomatoes. Gracing the top was a poblano "cream" sauce and pickled red onions. The cream sauce stole the show, packing some serious heat but also texturally creamy and comforting. The chicken was flavorful, and the tortillas an interesting texture, and the whole meal hit it out of the park by my standards.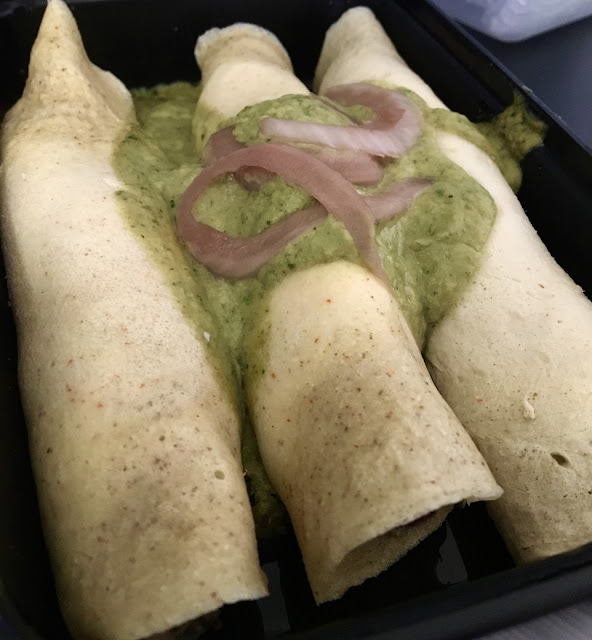 For microwave food, Snap Kitchen definitely defied my expectations. While the food is pricy, it is perfect for single-hood, as it saves me from cooking, cleaning, and having too many leftovers that ultimately go bad. Residents can enjoy the local convenience, but tourists too can benefit from Snap Kitchen, because the meals are minifridge worthy and need only a microwave to come back to life.
For Part 1 of my review, covering breakfast items and my experience eating in-store, click here.
Disclaimer: This review is based upon the information I have at the time of the review and does not reflect changes in ingredients or availability of items. Please contact the restaurant directly for up-to-date information and feel free to contact me with any questions or comments. I was not compensated for this review and it is a reflection of my personal opinion.