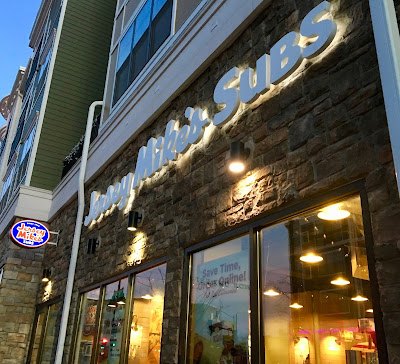 Subs. Hoagies. Heros. Submarine sandwich.


Whatever you call them, they're really hard to find gluten-free options at sub shops, much less find one that knows how to prepare them safely (shared knives and counters are a cross contamination danger zone!).


In my six years of going gluten-free, I have never found a place where I could walk in and order a sub and reclaim the normal experience I so enjoyed in my pre-gluten-free days. Of course I have made subs at home on a few occasions, but I have longed for this every time I pass by a sub shop or the deli counter at my local grocery store.


That's why I was floored when Jersey Mike's Subs, a nationwide chain, announced that they were going gluten-free. I met the news with skepticism, after all, I can point to plenty of examples of chains rolling out gluten-free options that are dangerously cross-contaminated or are considered "gluten-light" for those who follow the diet due to preference rather than medical necessity. Could Jersey Mike's boldly go where no sub chain had gone before? Even more, could they pull off the taste and texture of these iconic sandwiches minus gluten?


Jersey Mike's Subs went into this gluten-free endeavor thanks to inspiration from a franchisee, who's daughter has celiac. Knowing that gluten is not just an inconvenience, but a health danger to some, they set out to thoroughly train their employees and put protocols in place to ensure gluten-free subs actually stayed that way. Here are some of the steps they rolled out:
Udi's-made rolls (they come in 7″ and 14″ sizes) are individually sealed and opened only when a customer requests them.

Subs are prepared on a parchment paper, so as to put a barrier between the sandwich and the counter.

Employees put on clean gloves when preparing an order.

Dedicated knives and other utensils are used.

Customers can request to have toppings pulled from fresh bins in the back so as to prevent potential contamination from the assembly line.
Most of Jersey Mike's sandwich combinations can be made on gluten-free rolls, with a few exceptions (such as the chicken parmesan sub). You can find a detailed allergen menu for gluten and other allergens for all of their products right here.
For those with egg allergy concerns, do note that the gluten-free rolls are made with egg.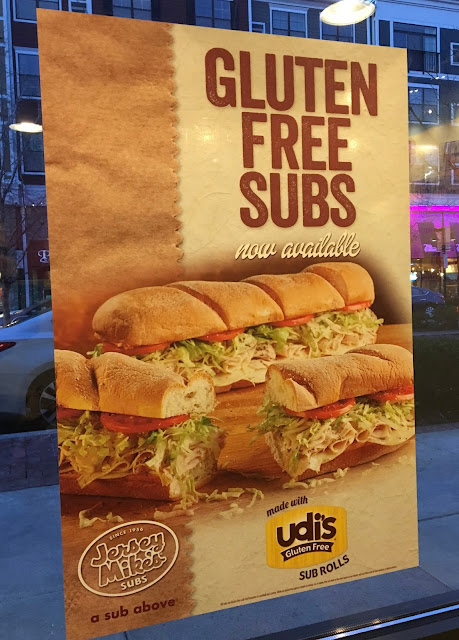 I decided to order a 7″ cold turkey sub without provolone, and opted to go for "Mike's Way" to dress it (shredded lettuce, onion, tomato, with a red wine vinegar and olive oil drizzle. The size was perfect- not too big or small. Just a word of caution: if you are taking your sub to-go you may want to opt out of the dressing because it could make the bread soggy and jeopardize it's consistency over time. I ate my sub in-house at Jersey Mike's.


My first bite brought a huge smile to my face. Jersey Mike's Subs nailed it. Completely. A generous portioning of cold, deli turkey was topped with fresh veggies, tangy dressing, and between two fluffy, bread-y buns that did not disintegrate or have gaping holes (which is a refreshing change from Udi's products).


It wasn't fancy, it wasn't the finest of dining, but it was satisfying and absolutely lived up to my memories of going to sub shops when I was a kid. I am so glad I can add Jersey Mike's to my list of safe places I can frequent both at home and when traveling, and look forward to bringing subs for lunch or to events like Washington National's games!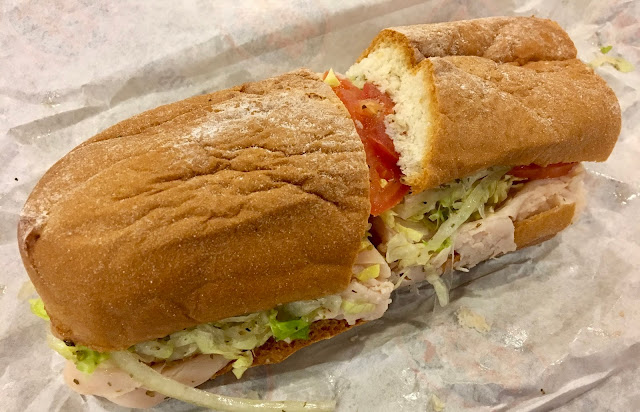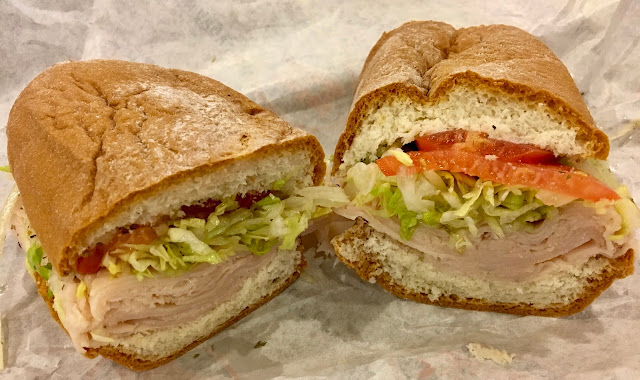 If you couldn't tell by my enthusiasm, I absolutely adored my experience both as a gluten-free diner and a sub-lover. I felt safe and the resulting sub checked every box for a what I was looking for in a sub sandwich. I am so thankful that Jersey Mike's thoughtfully rolled out their gluten-free subs and will be a place where gluten-free diners can reunite with this lunchtime staple, or try it for the first time in a restaurant.


Disclaimer: Yes, I had a wonderful experience, but that does not mean that every Jersey Mike's Subs location guarantees a similar experience. Ask questions, watch the sub preparation carefully, and don't let your guard down.



The Basics
Address:

2300 Washington Pl #125, Washington DC, 20018

(In the Rhode Island Row shopping/dining complex)

Price:

My 7″ sub was $9.97 (there was a $1.50 uncharge for gluten-free bread). Prices may vary by location.

Accessibility:

Wheelch

air accessible.
Disclaimer: This review is based upon the information I have at the time of the review and does not reflect changes in ingredients or availability of items. Please contact the restaurant directly for up-to-date information and feel free to contact me with any questions or comments. I was not compensated for this review and it is a reflection of my personal opinion.