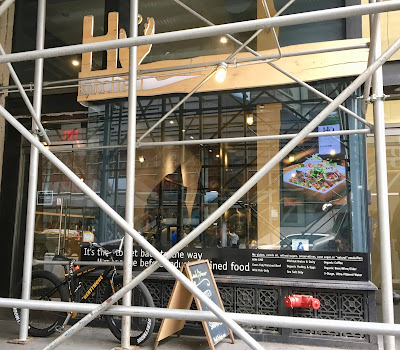 When it comes to travel, I am not a huge sightseer. I don't pack my days with tours and places to be but instead focus on a few places of interest and see where the journey takes me. After arriving by train to New York City in the early afternoon, I decidedly made a bee line towards Hu Kitchen, which on this trip was definitely a destination that was topping my list of places to go.
Hu Kitchen has the set up and feel of a grade school cafeteria, but one that is transformed fairy godmother style into the cafeteria of your dreams. Everything served is gluten-free, and most everything is dairy-free and grain-free, with a few rare exceptions. While this is a fantastic concept for anyone who's gluten-free or who is in a group who can't decide where to eat, it's also a huge conundrum. After all, how do you possibly choose what to eat when each item looks better than the next?!

Beyond being mostly gluten and dairy-free, Hu Kitchen is also free from canola or vegetable oil, intentionally choosing ingredients that are high quality and minimally processed. The experience of wandering around the small, but buzzing space is a bit overwhelming, as there are many serving stations: a coffeeshop/juice bar, bowl line, cold prepared food, a hot bar, and retail section with snacks, drinks, and sweets that align with Hu Kitchen's values.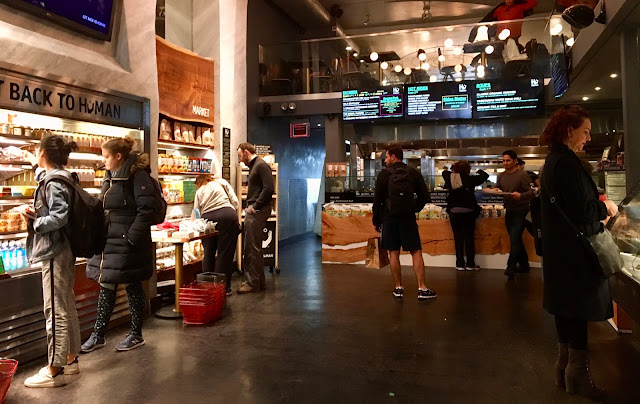 I decided to go for a bowl, choosing a root vegetable mash featuring sweet potato, carrot, squash and parsnip as a base. For my protein, I chose green curry chicken, then asked for a sprinkling of hemp seeds. To top the bowl off, lime juice was drizzled over the bowl.
On a rainy, dreary day, this bowl absolutely hit the spot and warmed me up from my multi-block trek to get to Hu Kitchen. I loved how the flavor of lime juice and green curry worked together to deliver a bright sweet and tangy flavor that warmed me up and gave me some serious comfort food vibes. The hemp seeds added a crunchy texture to the bowl that was fun, and the green curry chicken was incredibly tender. The root vegetable mash was smooth and thick, a real stick-to-your-ribs base that anchored the whole bowl.
Between the flavors and textures, it seems like this bowl was custom engineered to appeal to me, and I have not stopped thinking about the delightful mashup (pun intended) of my two favorite foods: green curry and sweet potatoes!
Although sweet potatoes were already a major presence in my bowl, I couldn't say no to a side of Hu Kitchen's roasted sweet potatoes. These sweets are generously seasoned with fennel, cumin, unsweetened cocoa powder, paprika, coriander, and cinnamon. With each bite I closed my eyes and relished the spicy symphony these potatoes delivered. The complexity of flavors was a revelation, and the liberal application of seasoning had me mournful when I came to the bottom of the bowl.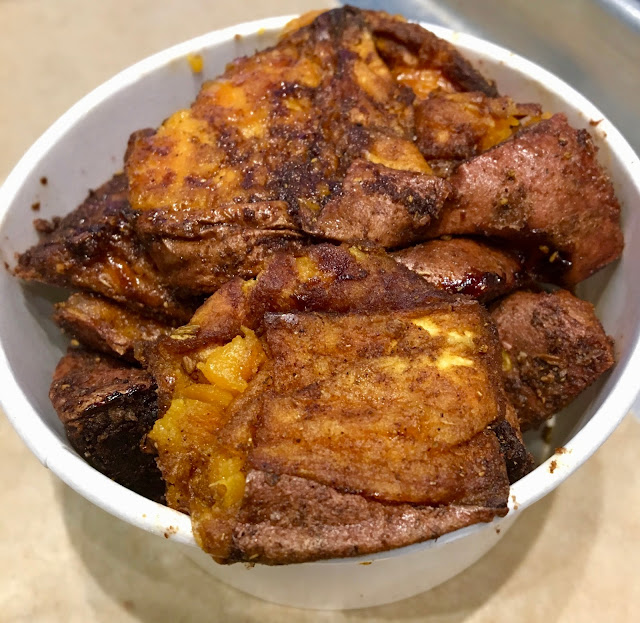 My bowl also came with a small slice of grain-free "fauxaccia," which delivered a wonderfully fragrant flavor and authentic focaccia-like texture. Although it was a small portion, it impressed me, so I made a mental note to try more of their baked goods on a future visit! One other thing to note: this bread does contain nuts.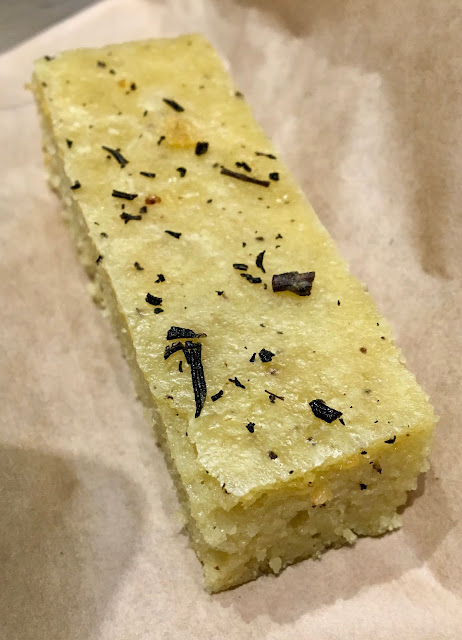 Speaking of baked goods- here's a couple of snapshots of Hu Kitchen's bakery case. By the time I spotted it I was already stuffed and couldn't bear another bite, but the treats were too tempting not to post.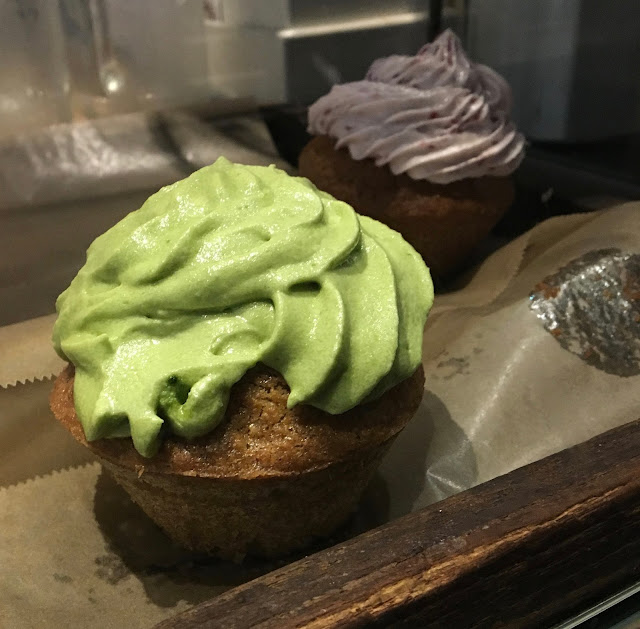 Although I did not intend it to be, my visit to Hu Kitchen was heavy on sweet potatoes- but Hu Kitchen proved that they could deliver this root vegetable in two compelling ways- mashed and roasted. I was impressed with the quality of my meal, and the abundance of options at this restaurant- I like that I can visit again and again and get a different experience by trying different stations. If you are visiting the city, this is an ideal place to grab snacks and meals on the go with the confidence that the food is good for you and safe- two qualifications that can be difficult to meet when traveling.
One thing to note- some of the products sold by Hu Kitchen are made on shared facilities and/or lines with wheat and other allergens. Just because the restaurant is 100% gluten-free doesn't mean you shouldn't stop reading labels!
The Basics
Cuisine:

Farm-to-Table, Paleo

Ideal For:

Breakfast, Lunch, Dinner, Snack, Dessert

Accessibility:

Wheelch

air accessible




Disclaimer: This review is based upon the information I have at the time of the review and does not reflect changes in ingredients or availability of items. Please contact the restaurant directly for up-to-date information and feel free to contact me with any questions or comments. I was not compensated for this review and it is a reflection of my personal opinion.