The cruel thing about being gluten-free is not only that forever alters your sense of "normal" for baked goods and other wheat-based products, but it turns every dining experience into a research project, with serious sleuthing skills required before crossing a restaurant or cafe's threshold. Gone are the days where stopping by for a sandwich or sitting down for a dinner can be done on a whim.


However at one of New York's newest 100% gluten-free eateries, you can find proper baked goods as well as dining options from dawn to dusk and for a brief moment, forget both downsides to being gluten-free. Meet Modern Bread & Bagel and Arba, which should be a priority point of interest for any gluten-free foodie, whether local or from out of town.


Operating as Modern Bread & Bagel by day and Arba by night, this upper west side eatery already impressed me as I experienced their dinner serve earlier this year (read my review). Now, in this post, I'm turning my sights squarely on their daytime iteration, where I finally got my hands on a half dozen of their signature bagels, which I have been pining for since their opening.


While their namesake bagels lured me into the restaurant, since I made the trek all the way up to their location there was no way I was leaving without the full brunch experience. Their menu has definitely something for everyone ranging from sweet to savory, baked goods to egg dishes. Most everything on the menu can be dairy-free too, which doesn't make deciding what to eat any easier!



I originally zeroed in on their signage cinnamon babka french toast, but they had run out for the day, so I settled for the close second: teff pancakes, which also happen to be vegan. Once they arrived at my table, any disappointment with my second choice quickly evaporated because they looked downright delicious!


The pancakes have a hearty, whole grain flavor. Added sweetness from powder sugar atop the trio coupled with bananas and the chili and date syrup completed the symphony of flavors that made each forkful a delicious mix of sweet and spicy. They're quite filling, so I couldn't eat another bite after polishing them off, I sadly had to forgo ordering additional items off the menu.




Since I couldn't bear to eat another bite, I made sure to stock up on plenty of baked goods to go for later enjoyment. As such, I purchased two challah rolls to go and a half-dozen bagels. I froze them the day after purchased, and they thawed out beautifully, with seemingly no detriment to taste or texture.


The challah rolls are absolutely lovely to look at with their tantalizing golden color and glistening shine. They taste every bit as good as they look, and have a lovely warm honey-infused flavor and bready texture. There's nothing better than well-baked bread, and I savored every bite of each roll I purchased.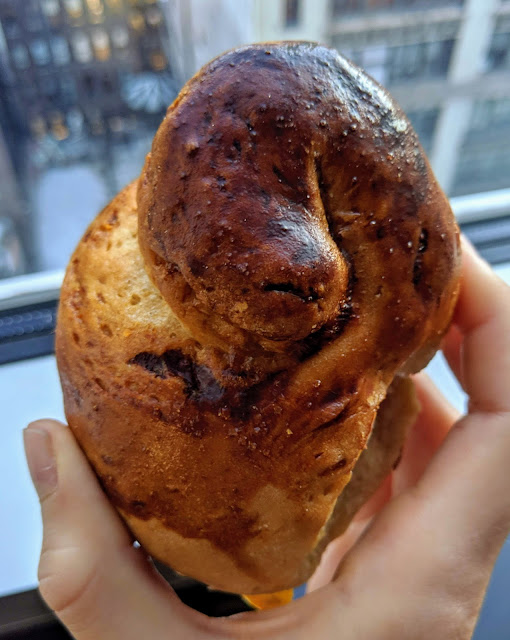 This challah roll was definitely ready for its close-up!
The plain bagels toast up to have a deliciously crispy crust with a hearty, chewy interior. Though seemingly simple with their nondescript looks, this type of bagel was my favorite of the batch I purchased, and were absolutely divine when spread with a schmear of Kite Hill dairy-free cream cheese(-less) spread. I dare say this is the best bagel I've ever eaten- gluten-free or otherwise- and although I knew for certain it was free from gluten, the perfection of taste and texture was almost to good to be believed.



The sesame bagels really earn top marks for the way the flavor of the sesame seeds, when they are toasted, is infused into every bite. I really appreciated the generous coating of seeds, and the bagels had a similarly chewy interior as their plain cousins. The crust of these bagels didn't quite crisp up as much as the plain bagels, but really, I can't complain because the end result could definitely outshine most other gluten-free bagels out there!




The third of the trio of bagel flavors I purchased was the everything bagels. Similar to sesame, I appreciated the abundance of everything-style seeds, which made each bite a textural symphony, with a dash of saltiness and onion for added pizazz. Of the bagels I tried, came in second place for my favorite.





I had the highest of hopes going into my Modern Bread & Bagel experience and I'm happy to report that it was a smashing success. Brunch was bustling, yet luxurious with a whole menu of options to choose from. The baked goods I purchased really impressed me, and definitely raise the bar when it comes to taste and texture. What a time to be a gluten-free baked-good enthusiast! I dare say these bagels could give New York City's gluten-full bagels a run for their money.





I'm so happy Modern Bread & Bagel (and Arba) exists, and will try to incorporate a stop there whenever I visit the city. Everyone from the owner to the kitchen, to the front-of-house staff deserve top marks for delivering quality fare in a warm, welcoming atmosphere. Whether grabbing a bagel sandwich to-go or sitting down to a multi-course meal, eating out should be an exercise in reveling in good food with good friends, and at special places like this, that's exactly what happens each and every day.



The Basics
Ideal For:

Breakfast, Brunch, and Lunch

Accessibility:

Wheelchair accessible




Disclaimer: This review is based upon the information I have at the time of the review and does not reflect changes in ingredients or availability of items. Please contact the restaurant directly for up-to-date information and feel free to contact me with any questions or comments. I was not compensated for this review and it is a reflection of my personal opinion.