Read my part 2 of this review at this link.


Recently, it feels like everywhere I turn I am discovering new products and restaurants that are turning my head and expanding my culinary horizons. My mom's recent weekend visit allowed me to check out many restaurants I have been wanting to visit for a while now. While most of our itinerary was well-planned and strictly structured, my visit to One Dish Cuisine in Ellicott City was more of an accidental affair as I decided to pay them a visit on a whim after enjoying pizza at Peace A Pizza in nearby Catonsville.


One Dish Cuisine is an allergen friendly deli, bakery, and restaurant that really understands the complexities of serving allergen-free consumers with a variety of needs and allergies.

Setting the stage for their allergen-friendly kitchen, gluten (wheat, rye, and barley), oats, soy, peanuts, tree nuts, shellfish, egg, fish and sesame have been eliminated from the kitchen. None of their products utilize these ingredients to keep them safe for folks avoiding any or all of them. To further the prevent possibility of outside cross-contamination, no outside food or drinks are allowed in the cafe. To note, some items do contain coconut and those requesting specialty items (corn free or sugar free) can special order bakery items to fit their needs.
Further impressing me with their allergen awareness, One Dish Cuisine has split their kitchen to fill two distinct roles. The blue kitchen prepares and deals with items containing no dairy products (milk, lactose, casein) while the green kitchen works with these dairy containing products. The menus are similar, but color coded to prevent confusion and all products in their bakery, deli, and take-home store are labeled with the color of the kitchen that prepared each item. The Celiac Support Association has certified their products as gluten-free to 5ppm and they test for other allergens where appropriate.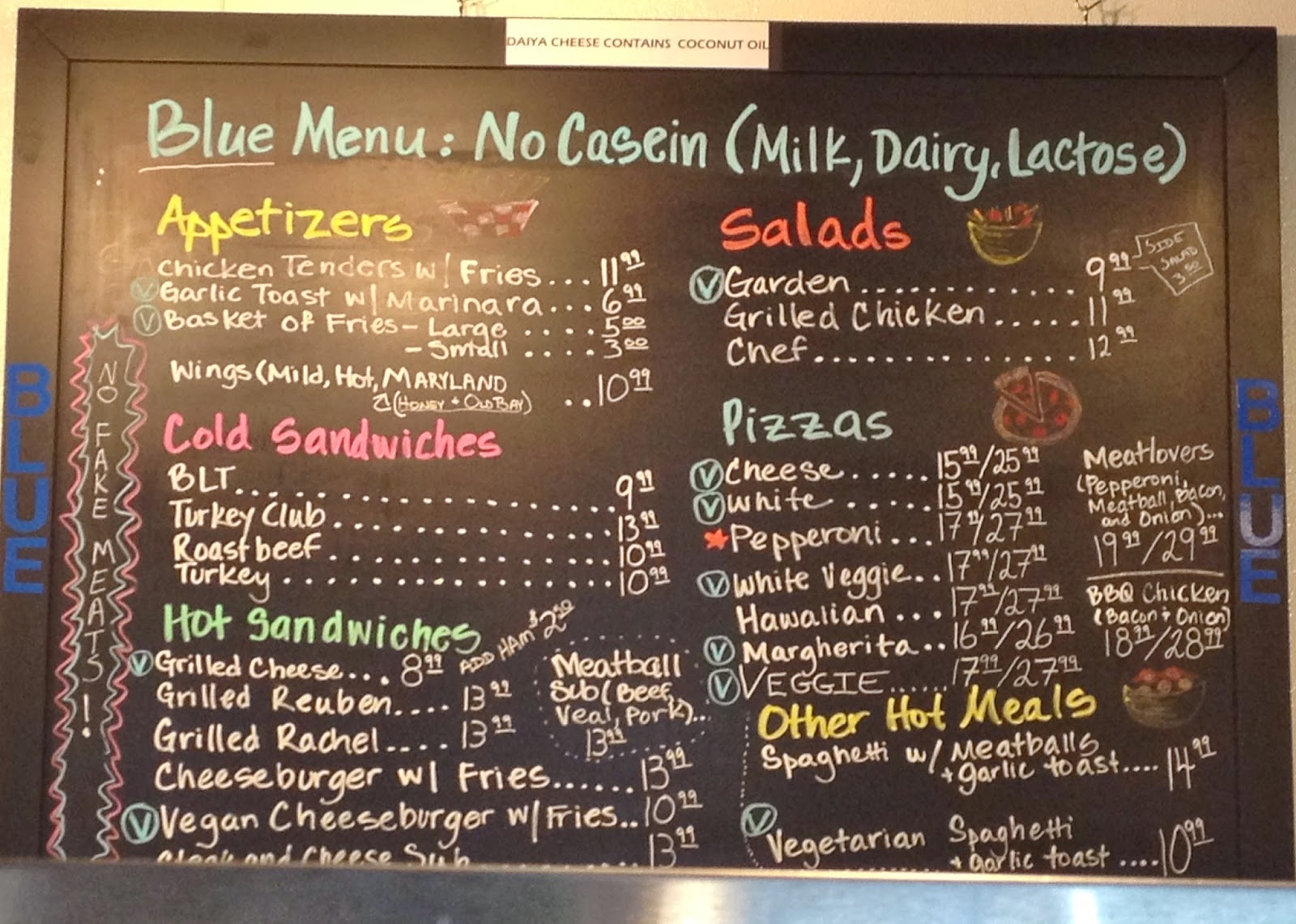 The blue "v" next to items indicates they are vegan.
Stuffed beforehand thanks to a 12″ pizza from Peace a Pizza, I didn't want to push my stomach and attempt one of their restaurant offerings. Not wanting to leave empty handed from this special diet paradise, I eyed their bakery cases which were filled with delicious looking creations ranging from cupcakes and pineapple upside-down cake to coffee cake and whoopie pies. I was limited to selecting only their fresh-baked items because I did not have a cooler and ice pack to keep frozen items cold and would not have access to a freezer until the next day. Those who come prepared will find a greater variety of offerings ranging from breads (French bread, buns, loaves, etc.) to cupcakes and even prepared meals such as chicken tenders, lasagna, and pizza.





When considering my take-home selection, I was immediately drawn to their big and beautiful muffins. Not so much a blueberry fan, I picked out a chocolate chip muffin that was calling my name. Though I waited until the next morning to try it out, it retained its moist, perfect texture without refrigeration. I liked the dusting of sugar granules on top for added texture and the wonderful balance of the chocolate chips and "bread" of the muffin. Not too sweet at all, it was a perfect breakfast that did not put me into a sugar coma first thing in the morning. After going three years without a bakery-made muffin, it's safe to say that this one will be only the first of many more muffins to come in my future!
Falling victim to this year's obsession with all thinks pumpkin flavored, my next selection came from their cookie case: pumpkindoodles. Infusing the perfection of the classic cinnamon-sugar cookie with a fall twist, the bite-sized cookies put me in a fall state of mind with the unmistakable flavor of pumpkin. Soft baked and perfectly sized for snack time, they're primed for a quick pick-me-up any time of day.




Further letting the flavors of fall influence me, I indulged in pumpkin yet again with their full-sized pumpkin cookie. Less "spicy" with lots of spice flavors, this cookie really let the flavor of pumpkin puree shine through. Not too sweet, the thick soft-baked cookie had a wonderful texture.
Although most of their bread items are sold frozen to preserve them at the peak of freshness, I was able to bring home three of their mini white loaves that had not been frozen yet. Although two out of the three went straight into the freezer, I held the third out to accompany my tomato bisque (see below). The mini loaves are adorable in size and slightly larger than a dinner roll. I liked the texture of the bread which was soft, yet firm in the center with a nice, thick crust. The bread was very much a traditional white bread, and had a slightly sweet taste. Though not a fan of white bread in general, I liked the mini loaf. In future visits, I hope to sample their pumpernickel or "mock rye" mini loaf varieties among their other bread offerings.
Though I couldn't bring home a large haul of food and bread (much to my chagrin), I couldn't pass up the opportunity to have tomato bisque which is so often off the table given my dairy intolerance. One Dish Cuisine offers this soup with the customer's choice of cream (green kitchen), coconut milk (blue kitchen), or rice milk (blue kitchen) to thicken and enhance it. I opted for the rice milk for my "cream" as I got it to-go for later. The soup had a nice tomato flavor accented with spices, but was not a total home run. The texture was not the thick, creamy one I recall from my dairy eating days. This might be partially to do with rice milk, which tends to be on the watery side. I bet the coconut milk would have rendered a more indulgent, creamy soup.


One Dish Cuisine overall was a treasure of a find. I'm so thankful I decided to pay them a visit on a whim and am now planning future opportunities to come back and slowly sample my way around their menu. The staff I talked to were very knowledgeable and friendly and helped steer me to what would be safe. It was also really cool to see that they are very involved with the community and champion causes that include the Center for Celiac Research (CFCR), Food Allergy Research and Education (FARE), and Talk About Curing Autism (TACA). Each component (food, staff, community support) shows just how invaluable they are to those who come near and far for the the comfort and security of the simple act of dining out.


But wait… there's more! A second visit to One Dish Cuisine warranted a second review after I sampled even more of their various offerings. Find that review here.


Update 1/31/15: After One Dish Cuisine expanded their breakfast offerings, I also reviewed their breakfast menu here.
The Basics
Disclaimer: This review is based upon the information I have at the time of the review and does not reflect changes in ingredients or availability of items. Please contact the restaurant directly for up-to-date information and feel free to contact me with any questions or comments. I was not compensated for this review and it is a reflection of my personal opinion.