My year-end round up comes down to one last top 10 list: my favorite products of the year. Although it was difficult to narrow down my favorite restaurants of the year, this list definitely ups the ante because I have tried so many fabulous and truly ground-breaking products this year. Some I found through gluten-free expos and trade shows and others by keeping my eyes peeled on every grocery run I take.


I am really excited to reveal my top ten picks and look forward to a whole year of new products to emerge next year. What will be the next big gluten-free thing?



Honorable Mentions
Although I tried to narrow down this list to ten items only. I simply cannot ignore products that just missed the cut. Those include Pure Genuis blondies and brownies (review), Ardenne Farms mixes (review), and Among Friends baking mixes (review).
10. Canyon Bakehouse Bagels (Review Link)
The newest addition to Canyon Bakehouse's gluten-free bread line up are everything and plain bagels. While the freezer section of most grocery stores is growing more and more competitive by the minute, Canyon's bagels stand out from the crowd and certainly brighten up any breakfast.
9. Cafe Spice Indian Meals (Review Link)
As a busy college student, I am all about quick and easy dinner options but not too keen on uber processed products. However, Cafe Spice breaks the "convenience food" mold with real ingredients that pack serious flavor without tons of preservatives and additives.
8. Daiya Key Lime Cheezecake (Review Link)
As a Floridian, key lime pie is pretty much the pinnacle of desserts in my book. Daiya's vegan, gluten- and soy-free twist on Florida's signature dessert is top notch and a perfect finale to any meal. I love the cool creamy decadence of every slice.
7. Real True Foods Bone Broth (Review Link)
Before encountering Real True Food's warmed bone broth at this year's Expo East, I had no idea how delicious and nutritious the substance could be. After a busy three day marathon of sampling, bone broth proved to be
6. Go Macro Protein Pleasure Bars (Review Link)
Although my diet it pretty healthy, I always am looking for ways to sneak in more protein, as I am not a huge meat-eater. Enter Go Macro's peanut butter and chocolate protein bars which pack 12 grams of plant-based protein into one tasty, vegan, and gluten-, dairy-, and soy-free bar.
Macaroni and cheese is pretty much my worst enemy- it's laden with both gluten and dairy. Daiya set out to change all that though with their new vegan, gluten-free, and soy-free cheesy mac pastas. From classic cheddar to the more gourmet white cheddar and vegetables kids of all ages are satisfied with this pasta.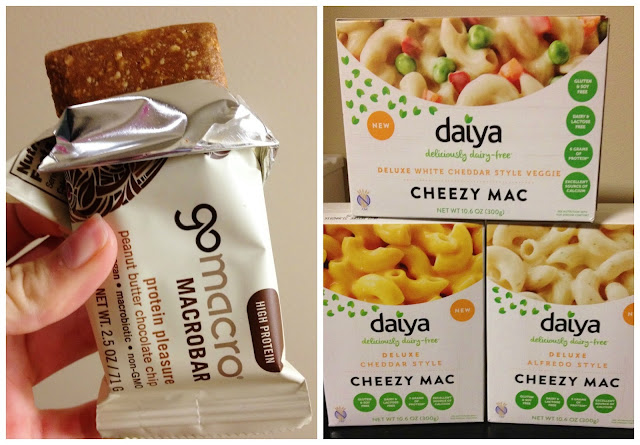 4. Beatnik Chicken Meatballs (Review Link)
Another product I found in my search for healthy, quick-cooking food is Beatnik Food's paleo, organic chicken meatballs. This perfectly portioned frozen meal makes dinner a breeze, as I can eat the tomato sauce-covered meatballs on their own, or over pasta if I am feeling fancy. They prove that healthy eating can be a snap!
3. Kite Hill Almond Milk Cream Cheese (Review Link)
Now that gluten-free bagels are transcending their stereotypical cardboard predecessors, it's about time for a dairy-free cream cheese to enjoy with them. Kite Hill's almond-based cheese won me over with it's creaminess, authentic flavor and perfect spreadability. Vegan, gluten-, and soy-free, it quickly earned its place as a fridge staple for me.
2. Simple Mills Pancake and Waffle Mix (Review Link)
I have tasted and tried quite a few gluten-free mixes this year but few leave such an unforgettable impression as Simple Mill's newest mix. With simple ingredients and an almond flour base, this mix renders fluffy, slightly sweet pancakes and waffles that satisfy without weighing you down.
1. So Delicious Cashew Milk Ice Cream (Review Link)
Up until I tasted So Delicious' new line up of cashew milk ice cream I was a vegan ice cream non-believer. This new ice cream is revolutionary with its creamy, dreamy consistency and totally decadent five flavor line up. Indulgence has never been quite as sweet or satisfying.
Disclaimer: This list is a collection of my favorite product reviews of 2015. It is a reflection of my opinion and is no way affiliated with each of the products or brands mentioned. I have not been compensated for this post in any way.