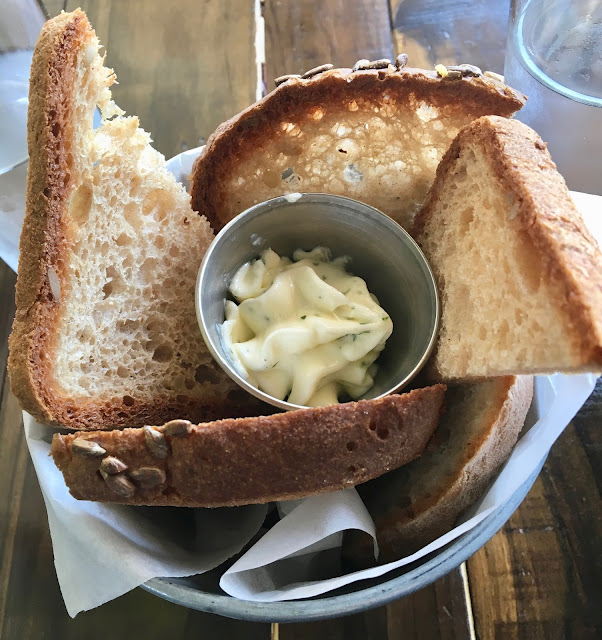 I ordered the daily special, Primal's chicken salad. This is not so much your deli counter variety, but a lovely reimagining, which serves the salad in a deconstructed way. The chicken has a lovely grilled flavor, and is tender and cut into manageable slices. Grapes and Granny Smith apples provide sweetness, with the latter adding a delightful tartness. The almonds added a nuttiness and nice texture to every forkful and the lettuce base was crisp and sublimely fresh.


My only dislike of the salad was that the "dressing" heavily featured mustard seeds. While it added complexity, a little goes a long way and I did not like the larger clumps of it. Nevertheless, the salad won me over, and easily filled me up with it's large portioning.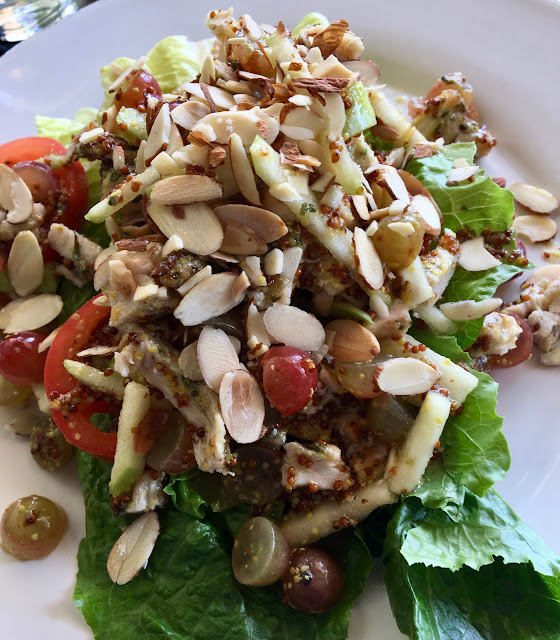 Any time I visit a 100% gluten-free restaurant, I am already won over without eating a bite. It takes dedicated restauranteurs to open and operate a safe place, and Primal Food and Spirits impressed me with their menu and service. My meal was excellent, and the quality surpassed my expectations. My only regret is that I couldn't try more of the menu, which of course means I will be stopping by whenever I am in the Durham area next.



The Basics
Address:

Southpoint Crossing, 202 NC-54 #107, Durham, NC 27713

Cuisine:

American, Farm-to-Table

Ideal For:

Brunch (Weekends), Lunch, Dinner

Accessibility:

Wheelch

air accessible
Disclaimer: This review is based upon the information I have at the time of the review and does not reflect changes in ingredients or availability of items. Please contact the restaurant directly for up-to-date information and feel free to contact me with any questions or comments. I was not compensated for this review and it is a reflection of my personal opinion.